December 5th, 2011
First thing, there's another
DFC Library book
launching, on
Thursday
! It's a comic/graphic novel by the amazing
John Aggs
, who wrote it, and his remarkable mother
Patrice Aggs
, who drew it.
The Boss
follows in the tradition of
Emil and the Detectives
, but very modern-day (even though it's set in a castle), and a
erfect Christmas gift
for anyone over the age of, say, 7 or 8.
And oh no, too many choices! Also on Thursday, there's going to be a fab Steampunk Party at Blackwells book shop on Charing Cross Road! They'll be presenting The Kitchies award of the Red Tentacle, won last year by writer
China Miéville
(
Kraken, Embassytown
), and Plarchie the Squid CAN'T WAIT to meet China for the first time this year. My studio mates
Lauren O'Farrell
and
Gary Northfield
will be there, and Gary will be doing some live drawing and watercolouring. And our friend and fab writer
Philip Reeve
(
Mortal Engines, Here Lies Arthur, Larklight
will also be drawing and signing books and generally partying along with us, so it's sure to be unmissable!
Click here for the full line-up.
I am already rearranging bits from my wardrobe to try to come up with something that looks at least a bit steampunk. (And people are
still
asking me what steampunk means, so
find out here
or just go read
Larklight
(
here's the website
), which has the most fabulous pseudo-Victorian illustrations by David Wyatt of the Crystal Palace turning into a giant mechanical spider that you ever saw. And hoverhogs, I want my own hoverhog.)
And if you can't make it to the party, you can still stop by
Foyles Charing Cross
, where Philip will be signing from 5-6pm. (Get him to draw you something in your book!)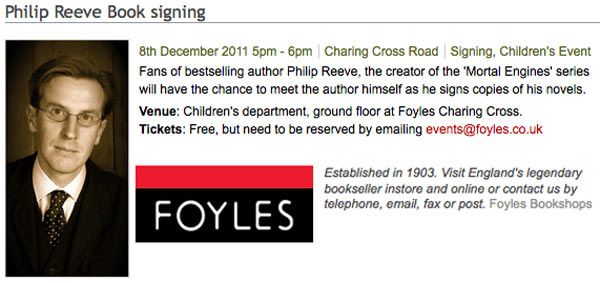 And of course, tonight! There's
Laydeez Do Comics
, which is always a great place to meet fine comics folk, both guys and gals, and here's tonight's line-up: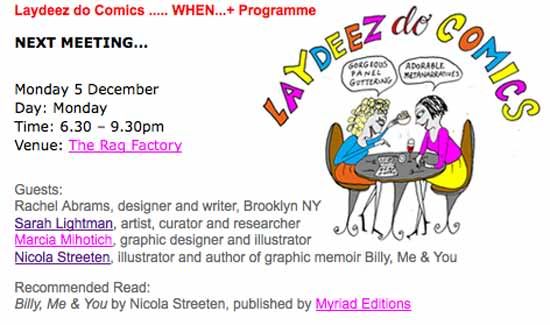 So many parties this week! But I actually went to bed at a reasonable hour last night (no way!) so I got to see the sunrise this morning over the Thames. That was rather mind-blowing, if finger-numbingly cold.
Timothy Winchester
, who's going all out to celebrate ANGELA LANSBURY WEEK. (Did you know there was an Angela Lansbury Week? I think it is the highlight of Timothy's year.) Today was Day One, and you can see several people's contributions over on
Timothy's blog
.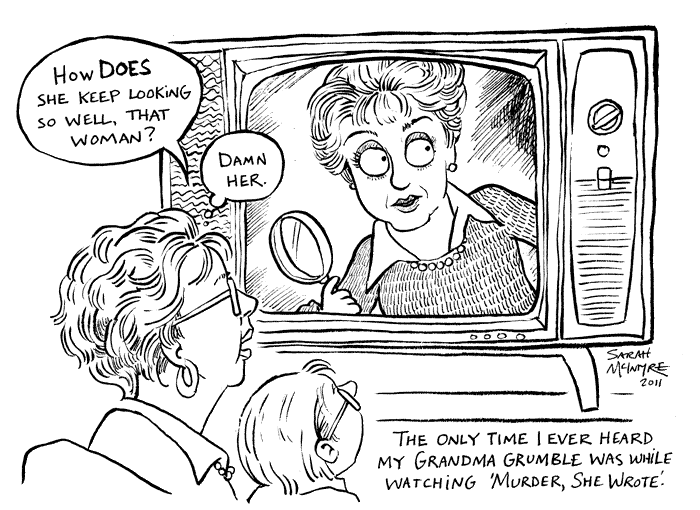 This one's for