December 17th, 2011
Hee hee! I love this video! And I can see it might be a way forward for picture book apps... (Thanks for the link,
No, not really, but I did write an interview article about
fab publisher Alison Green
for Ireland's
Inis children's book magazine
. It's a cracking issue, No. 36, with
Neil Gaiman
's reflections on
Diana Wynne Jones
, an article featuring
Emily Gravett
's work, another showcasing one of my favourite picture books of the year,
Jon Klassen
's
I Want My Hat Back
, insight into the Bologna Book Fair's illustration award,
Oliver Jeffers
' work, the beautiful Indian work showcased by
Tara Books
, and loads more good stuff.
If you love children's books, go over and either subscribe here by joining Children's Books Ireland or buy individual copies.
(You can see some of the shenanigans I've got up to with CBI on trips to Ireland
here
.)
You can read below the extended version of the article (we had a good long chinwag!), but buy the hard copy for the shorter, snappier version.
I never would have guessed that publisher Alison Green started her career doing blind taste tests of canned meat. Or that she bases her enormous respect for sales reps on her experience of crawling on hands and knees around the filthy back rooms of newsagent shops in quests for Branston pickle. No, all I'd ever known about Alison Green is that she turns out high-quality picture books from some of Britain's best creators, including
Julia Donaldson
and
Axel Scheffler
. So when I was asked to interview Alison, I quickly got in touch with two of the creators she's worked with, to pick their brains about this woman at
Scholastic UK
(my publisher!) who has
her own imprint
.
Nick Sharratt
effused about working with her: "She gives you the freedom to go for bonkers, off-beat book ideas, but she demands the absolute best from you and is complete stickler for detail and getting things just right - which is of course what one wants in a publisher. I relish going into her office, eating all her biscuits and not leaving until we've cracked some knotty story structure problem or got the text absolutely spot-on."
Viviane Schwarz
wrote: "One of her principles was that you could make stories as weird as you like if you draw it in a style that doesn't frighten the horses', that is, that doesn't look weird but pleasant and sweet. Viv left me an enigmatic tip: Ask her about the time I needed to draw a kitten, she will still remember."
I knew Alison must be very busy and assumed I'd only get 30 minutes, at most, for the interview. But I forgot to look at my watch as soon as I set foot in her office and, over the next two hours, it dawned on me that not only does Alison publish stories, she's a natural storyteller, and I was mesmerised.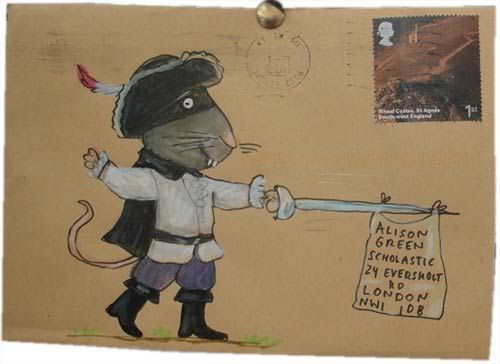 (
Click here to read more interview under the cut!
Collapse
)
So I'm a journalist!