Guess what this is...! It's a GOBLIN! Yes, really! I know, it doesn't look like a goblin, it looks like a space man put together by a four-year-old. When Stuart and I went to the Reeves for Christmas, we brought several boxes of Sculpey clay, wire, cutters and foil. Supposedly they were gifts, but really I was hoping for the chance to make something with them.
Here are Sam, Philip and me being busy bees, while Stuart and Philip's sister and brother-in-law play Monopoly at the other end of the table.
Philip has a fabulous new book coming out in April, called
Goblins
, and I love the little critters on the cover, drawn by
David Semple
, so I thought I'd try making one of my own in 3-D. (Find out more about
Goblins
on Philip's blog
.)
Sam made a goblin head, too! It's a fine goblin.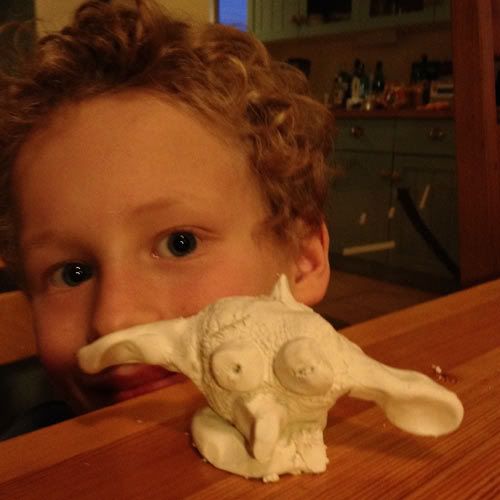 Here's what mine looked like, after I covered all the foil and wire with clay and did some shaping. It still looked like a pig, and I needed to add stuff to make it more goblin-like.
Some armour... Philip gave me some ideas about the kind of armour goblins might wear. Pretty simple stuff, and very bashed-up.
(
Collapse
)