Look,
Philip Reeve
and I drew a picture together! He drew it and I inked it and coloured it.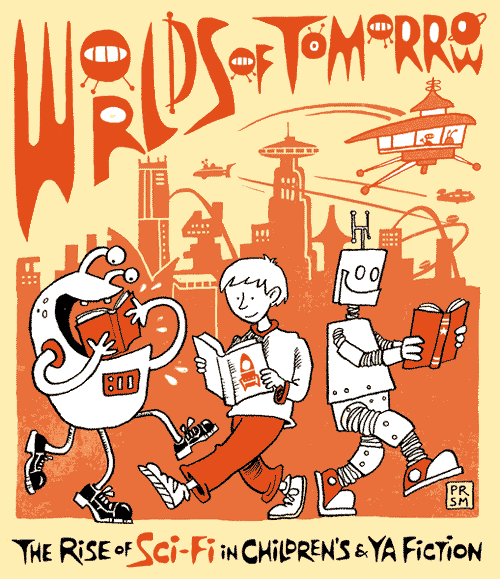 And, rather excitingly,
it announces an upcoming event, for anyone who loves science fiction (or SF as some people prefer to call it) or wishes they knew more about it.
I'm a new member the
Children's Writers & Illustrators Group
at the
Society of Authors
, and they were looking for a fun and informative event, after the wildly successful
Comics Evening
, so I suggested SF, and Philip Reeve to co-chair ('cos he knows a lot more about it than I do), and they went for it. Apparently the Society has never hosted a SF event, so we are pleased to present its first! And
Neil Jackson
at Foyles loves SF and Philip's work, so he was totally up for letting us hold it at the bookshop. Everyone wants to know what they big deal is about SF; it's taking the children's literary world by storm. Do you love reading it and want to ask the authors questions? Are you interested in learning how to write it?
WORLDS OF TOMORROW: The Rise of Sci-Fi in Children's & YA
THE SOCIETY OF AUTHORS
and
FOYLES
present an evening with your hosts PHILIP REEVE & SARAH MCINTYRE. Followed by a question time and book signing.
PLACE: The Gallery, Foyles Charing Cross
DATE: Tuesday, 22 May
TIME: 7pm
Book FREE tickets by e-mail: events@foyles.co.uk
Space is limited, please e-mail Foyles if you book and are unable to come.
The Society of Authors has reserved 40 places for society members
INCLUDING SPECIAL GUESTS
MOIRA YOUNG
stunned readers last year with
BLOOD RED ROAD
, her YA debut novel about a girl searching for her kidnapped twin brother in a bleak, post-apocalyptic landscape. Her book scooped up the Costa book award and now that she's back from a whirlwind USA tour, she's working on the second book in the trilogy.
Favourite sci-fi book as a child: A WRINKLE IN TIME by Madeleine L'Engle
High-energy writer
STEVE COLE
invented a time machine that lets him write more books than anyone else, and they sell in the millions. His books include the wildly popular
ASTROSAURS
series,
COWS IN ACTION
,
Z.REX
,
ASTROSAURS ACADEMY
,
THE SLIME SQUAD
and several original
DOCTOR WHO
stories.
Favourite sci-fi book as a child: STORIES FROM THE TWILIGHT ZONE by Rod Serling
SF and dark fantasy writer
KIM LAKIN-SMITH
is obsessed with mechanics, dystopias, and all things punk. Her novel
CYBER CIRCUS
is shortlisted for this year's British Science Fiction Association Best Novel award. Kim's latest YA story is the steampunk action adventure,
QUEEN RAT
.
Favourite sci-fi book as a child: THE HITCHHIKER'S GUIDE TO THE GALAXY by Douglas Adams
PHILIP REEVE
teleports from the wilds of Dartmoor, where he's constructed the futuristic landscape of the
MORTAL ENGINES
quartet and the ongoing
FEVER CRUMB
books. His madcap
LARKLIGHT
trilogy begins in a Victorian house which orbits the moon. His latest book,
GOBLINS
, launches this spring.
Favourite sci-fi book as a child: THE MARTIAN CHRONICLES by Ray Bradbury
SARAH MCINTYRE
painted a picture book full of aliens and chocolate, called
YOU CAN'T EAT A PRINCESS!
She regularly finds herself with groups of children drawing aliens and making comics about interplanetary adventures.
Favourite sci-fi book as a child: THE RUNAWAY ROBOT by Lester del Ray
In partnership with
ANNE PERRY and JARED SHURIN of
THE KITSCHIES Awards
, celebrating progressive, intelligent, and entertaining science fiction for readers of all ages.
Anne's favourite sci-fi book as a child: I, ROBOT by Isaac Asimove
Jared's favourite sci-fi book as a child: DOMINIC by William Steig
Please do spread the word! Here's a flyer if you want to post it on your blog, Facebook, wherever. Cheers! (Here's
a simpler version
, if you prefer to use it.)