Last time I took part in
Stratford Literary Festival
, I drew a
variation on their logo swan
, so this year I took it one step further, and scribbled this in the cafe:
Every festival has its highlight, and this time it was getting to meet 7-year-old
Sara Constantin
, who had drawn a half-size facsimile version of
You Can't Eat a Princess
... just just scenes from, but THE ENTIRE BOOK!
There's something about copying work I admire that makes me really, really
see
it and understand what the artist was trying to do. I do that a lot when I go to art galleries, with great masterpieces. It's not about trying to 'rip off' Rembrandt or Hergé, or whoever it is - I'm not going to go away and sell my image and pretend its my own - it's about learning and exploring the way the artwork has been created, in utter detail, making my hand do the same lines and work out the same compositions. And when I'm doing it, I feel a sort of companionship with the artist, going over the same lines and shadows that they did, and thinking,
Ah, now I see why you did that
. So I got almost teary to see someone do the same, so extensively, with my own work. That Sara will know my book better than anyone! And it feels rather companionable.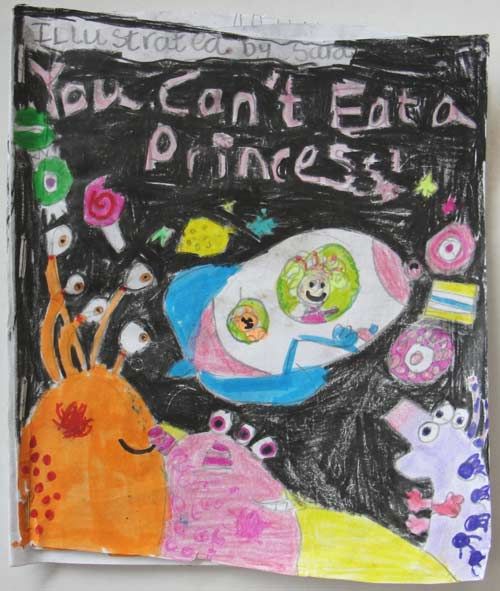 Okay, humour me here, I'm going to show you the WHOLE BOOK because it's so amazing. Sara even drew the endpapers, which are four pages a lot of people would just skip over.
I was very impressed by seeing her work out the text placement on the page, and she spread the compositions fairly evenly over the pages, right to the edges, which takes some skill. (A lot of kids will draw everything very small in one section of the paper.)
If you're familiar with
You Can't Eat a Princess!
, written by
Gillian Rogerson
and illustrated by me, I think you'll get a kick from Sara's reinterpretation of it. Her characters look slightly different, but they also have their own graphic boldness and liveliness. I love them!
(
Collapse
)