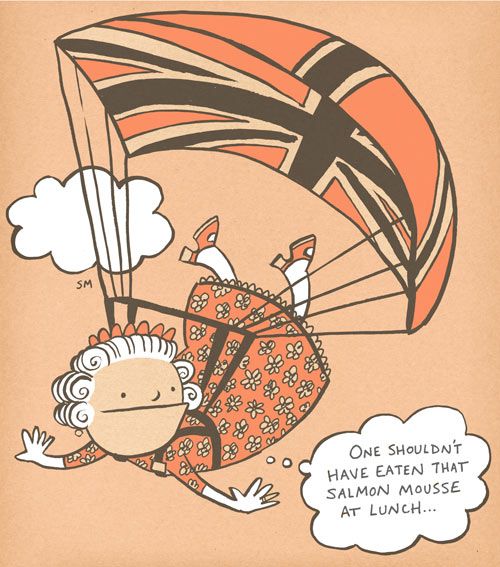 So did everyone watch the Olympic Opening Ceremony the other night? When I first saw the fields of hobbit-y, happy farmers, I thought,
uh, oh
. Like my writer friend
Candy Gourlay
said
in an article on Rappler
, she thought it might be painfully twee (
definition of 'twee'
for non-Brits). But then it all kicked off, and there were huge industrial smoke stacks, and Kenneth Branagh reciting
Caliban's lines from The Tempest
,
Mr Bean's brilliantly stupid musical number
, hundreds of Mary Poppinses, beautiful bicycle-driven giant doves... it got more and more exciting and, well, I was hugely taken with the whole thing. It had cheesy moments, but they didn't stop it from being an absolutely amazing spectacle. I bet it will spark off countless cartoons, but here's another great one of the Queen's parachute jump with Mr Bond, by
Alex Paterson
: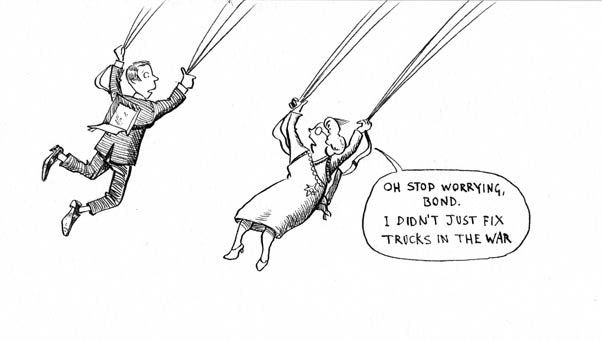 Lots going on around here this summer! Are you going to
Caption Comics Festival
? It's in
Oxford on the weekend of 18-19 August
, and it's a wonderful place to meet comic creators and find out more about comics. It's one of the very first comics events I ever went to and where I decided that small press comics are definitely something I'm very interested in.
Here's a comic
I made about Caption my first year, and if you follow this tag, you can see
my reports from years past
. And I've designed the t-shirt this year!
Go ahead and buy one
, whether you're going or not. But I hope you can come!
And to back up that small press interest, here's a comic to which I've recently contributed six colour pages. My copy of
ink+PAPER, Issue 2
just arrived this morning! It's looking FABULOUS. You can order a copy
here
! Be sure to browse the
lovely website
created by its editor,
David O'Connell
.
So while I certainly wouldn't call myself a sportswoman in any way, I've had my own little role in the Olympics this week, with
StoryCloud over at the Discover Children's Story Centre
in Stratford. And I got called into give an interview about it on the Breakfast Show on the Olympics site with
BBC London radio
, how exciting! I'd stayed up very late watching the Opening Ceremony, so the early morning start was a bit hard-going. But I was surprised by how many sport fans were already on the rail station platform, and how wildly jubilant they all were. It all got incredibly silly. At 7 IN THE MORNING.
(
Collapse
)