If you haven't yet read my
article over David Fickling Books' blog
about my sister (we were asked to write about someone in our family), hop over there and find out a few things about the legend that is my sister,
Mary McIntyre
. I really miss her, I don't get to see her very often because she lives in Seattle. So this weekend, we met in the middle, along with Stuart and Mary's partner, former
Seattle PI
reporter
Mike Lewis
, who runs the Streamline Tavern with her.
We managed to hit two museums during our visit, the Museum of Modern Art and the Metropolitan Museum of Art. Here's a page of sketches based on paintings I saw at the Met. (See if you can guess which paintings.)
I've always thought this American folk art portrait was wonderfully quirky, by
Ammi Phillips
, painted between 1834-36.
Mary's always telling me off for making too many pictures of 'nice, smiling' children. She wants me to show a few nasty or creepy children. So I'm obliging her with this reinterpretation of Phillips' painting. I quite like it, I think I might work it up into a lino cut or something.
Here's our gang on the steps of the Met, finishing up the giant pretzels we bought from one of the Vietnam Vet food stands out front.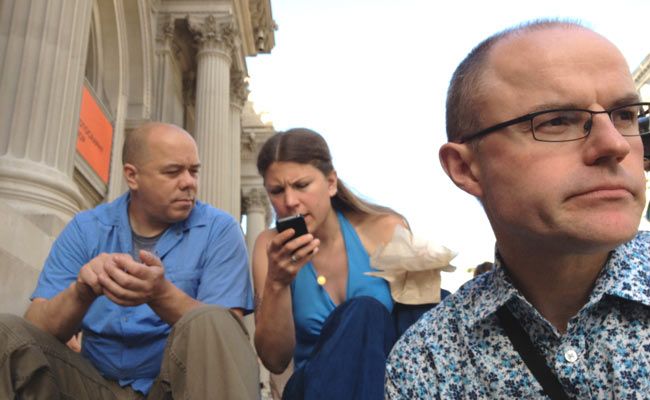 I think pretzels are a good excuse for Mary to eat mustard. She loves mustard and I drew this portrait of her. She's kind of hard to draw, but I keep trying.
(
Collapse
)