November 14th, 2012
Jamie Smart
,
Alex Milway
,
Nana Li
,
Gary Northfield
and everyone in the room who contributed to the discussion. ...Hey look, a Moshi Monster plushie!
Photo taken by Helena Pielichaty
I'm going to keep adding links if anyone blogged the event, but first up is
Helena Pielichaty
, Chair of the
Children's Writers & Illustrators Group
of the SoA. Thanks for blogging, Helena!
Go read about the event here
: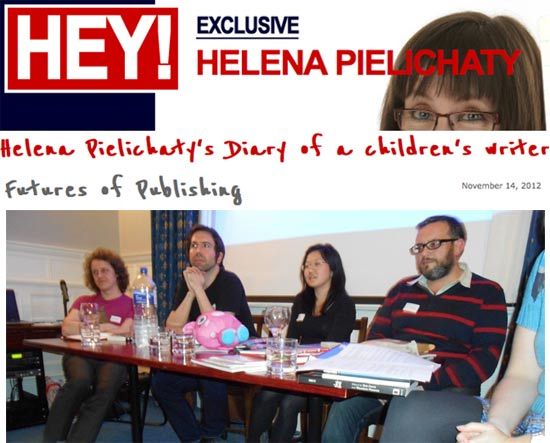 Thanks,
Jo McCrum
and the Society of Authors for treating us to a tasty dinner at
The Henry Root
.
*Makes note to self for future dining.*
I had a peek at Nana's sketchbook, who's doing a project with her co-workers at Moshi Monsters to fill up a sketchbook in a month. She's been doing a lot of gestural drawings, which were fun to see. And one she did at the restaurant when we were teasing Gary about his lovely fragrant shower gels.
Next up for events, I'm doing a
joint Booktrust and Comica Festival panel organised by Booktrust's comic-artist-in-residence Hannah Berry, next Monday, 19 Nov, in London
, with
Simone Lia
(
The Phoenix Comic, Fluffy, Please God, Find Me A Husband
),
Dave McKean
(
Arkham Asylum, The Graveyard Book
)
Glyn Dillon
(
The Nao of Brown
),
Karrie Fransman
(
The House That Groaned
) and another speaker whom we can't announce yet, but she's FABULOUS.
Book your tickets here!
Here's an article about the event and Hannah's work
on Paul Gravett's website
: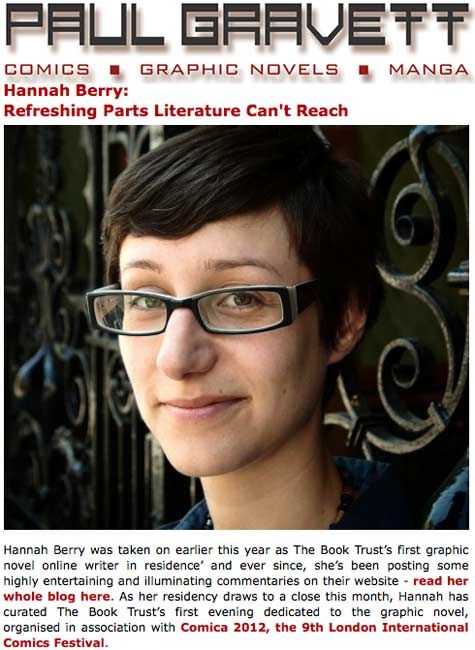 And some of Hannah's thoughts on the subject
over on her Booktrust blog
: what can comics do that other books can't?
(
Click here for more under the cut!
Collapse
)
I heard a couple people say they'd never seen the Society of Authors audience so excited and full of questions as they were last night at the Futures of Publishing panel event. Thank you so much to the fabulous and forward-thinking