Something is not right in Sarah world: while I'm frantically drawing my fingers into little nubs to make books, I'm not actually getting to READ books. Oddly enough, one of the perks of my job these past couple years has been that I don't need to buy many books anymore, people send them to me. But then they just sit there, in an enticing looking piles, which gets less and less appealing as the dust layers settle on them. (I'm not getting much time to do housework, either.)
But the not reading thing is so, SO
WRONG
. The whole reason I went into making books is because I love reading them. I love opening the covers and then disappearing into another world for awhile, and coming out, feeling like I've been on holiday. Perhaps a stressful, scary holiday, perhaps one that's unsettling, but a holiday, nonetheless. Reading gives me ideas for my own books, ideas that can be reshaped into completely new stories or even something as small as an expression on a character's face.
So I am trying to read in the gaps, a few stolen moments away from deadline work. Two days ago I finished reading
Jeff Norton
's
Metawars
while making a risotto (a
mushroom and brandy risotto
, if you're looking for a recipe). And it's a wonder the risotto didn't burn; I got sucked in, and it felt a bit like going to the cinema, fast-paced and action-packed. Here's a sample page, to help you get the drift:
I'd met Jeff a couple times, once at our
Worlds of Tomorrow
SF event, where I think he first met novelist
Moira Young
. Jeff and Moira are both Canadian - in fact, they went to the same school - and they have that thing in common that most Canadians have... they're just so darn
NICE
. So when you get invited to a party with them at
Canada House
on Trafalgar Square, where they're going to talk about their new books, you cannot say no. (Especially when there are Girl Scout cookies involved.)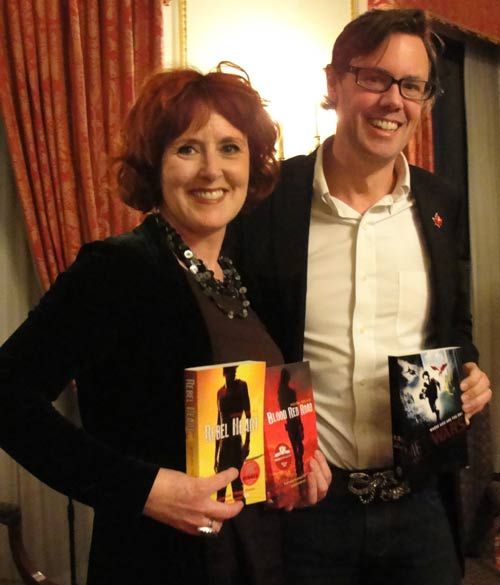 (
Collapse
)
And one more bit of news! In the run up to Christmas,
Neill Cameron
of
The Phoenix Comic
is posting an Advent Santa, drawn every day to YOUR suggestions! Here's
VALKYRIE SANTA
. Go check out
today's drawing
!