Here are a couple more peeks at
Oliver and the Seawigs
from my studio lightbox! I'm almost finished and Oxford University Press are already printing the proof edition, which is the not-quite-finished version for reviewers, sales reps and such. But the final printed edition won't be in shops until autumn. I'm glad I took a photo of this drawing because it suddenly made me realise that I'd forgotten to draw the axle between the wheels. So I was able to nip in and fix it. Phew!
You can see earlier glimpses of the book under my
Seawigs tag here
. Drawing underwater stuff if fun, I can create a real magical kingdom. I'll be working on this picture today.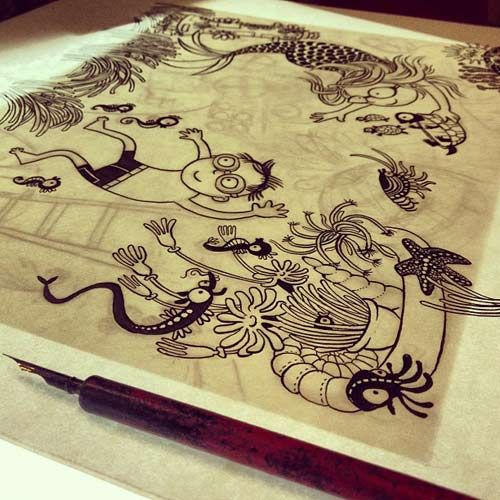 Also, I was talking to my co-author on it,
Philip Reeve
, and he referred me to the sets in
The Magic Roundabout
and sent me this link. If you're not from Britain, you might not remember this programme from childhood, so I'll post it for you. It's very slow-paced, but the shapes and colours are so lovely: