February 20th, 2013
And here's how it came about: lovely
Alex T Smith
, making cookies and drawing a goat.
Goat sketch by Alex T Smith
You can follow him on Twitter as
@Alex_T_Smith
.
Other news, just
saw in The Bookseller
that
Raina Telgemeier
has signed to do another graphic novel with Scholastic Inc, called
Sisters
. Cool! Now if only we could convince Scholastic UK to publish graphic novels... *smiles wistfully*
One more thing, it's school half-term and London's
Imagine Festival
is still going full-steam ahead. Don't miss
David O'Connell
's sure-to-be-fab comics workshop this Friday! Ages 7-11, details on
his website
. (He's
@DavidOConnell
on Twitter, keep an eye out for future workshops.)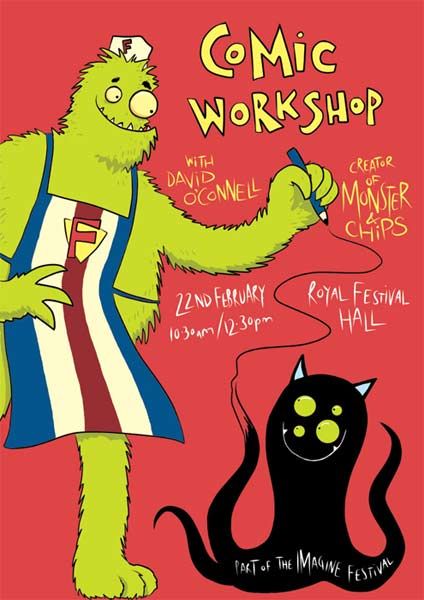 And just in case you missed it on the
Fleece Station blog
, here's a goat video that had us in absolute stitches:
I love how social media makes little stories at night, but by morning, they've slipped unnoticeably the Twitter stream. Anyway, it's a good excuse to post a quick drawing:

... so that means I'm allowed to show you now! Introducing
Superkid
, typed out neatly by
Claire Freedman
, writer of the hugely popular
Aliens Love Underpants
.
This book's been on the burner for absolutely
ages
; I signed on to do it right when I paired up with Scholastic, and then it got pushed forward so I could do the second Princess Spaghetti book before all the fans of
You Can't Eat a Princess!
had grown up. So Superkid's been in the back of my mind for a long time and it's great to see him finally getting to launch. I sometimes get asked to do comics workshops for kids and then discover the kids are slightly too young to make comics, so this will be a good picture book starter, to get their little feet in the door. You can see lots of clues on the cover to the wild adventure stuff packed inside.
Second bit of news:
Vern and Lettuce
and five other books in the
DFC Library
will come out in paperback this August! To celebrate it, I've made a new cover:
Spot a new book in these six below? That's
Jamie Smart
's
Fish Head Steve
! It's never been seen in book form before, so that's very exciting! The
Etherington Brothers
have just written about it on their blog, which you can
read here
.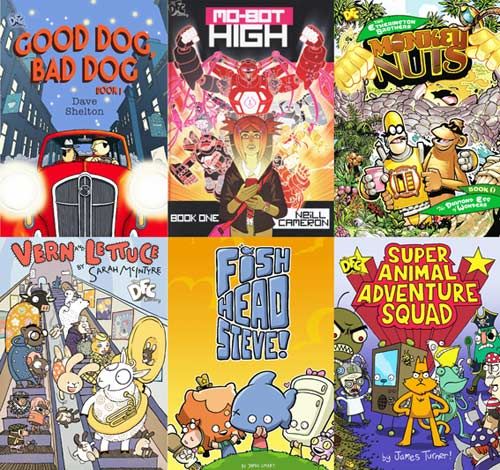 Here's a trailer for
Fish Head Steve
:
Speaking of Jamie Smart, there's one more thing you absolutely shouldn't miss: he's just been tweeting about a new comic for children that he's hoping to start up, called
Moose Kid Comics
. Jamie has edited anthologies before and self-published loads of comics, besides his regular work in
The Phoenix Comic
, Scholastic, Nickelodeon, The Dandy, loads of stuff.
Click over to the Moose Kid Comics to find out more
, and if you're a comics artist, how you might be able to get involved.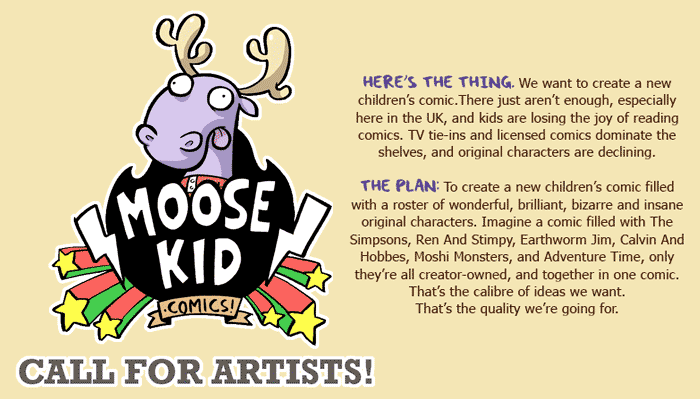 Find out more...
Hurrah! Scholastic's publishing director just tweeted a photo of our new book...