Hurrah!
Philip Reeve
and I were hoping we'd get back into
The Phoenix
, and we did! But a different Phoenix this time, the hub of
Animated Exeter
, a brilliant festival and a great reason to head over to Devon.
We launched a new book,
The Exeter Riddles
! Here I'm perusing the lovely little tome over breakfast.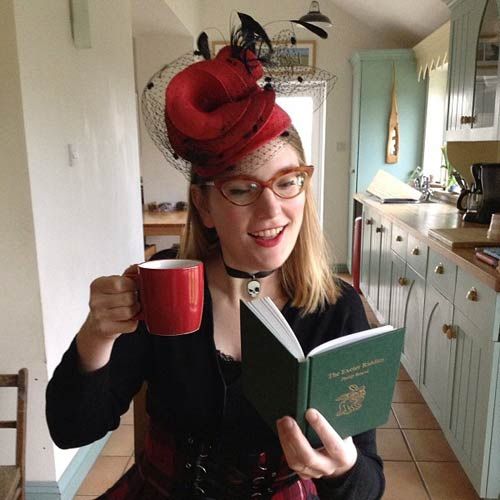 Photo by Sarah Reeve
I should add,
The Exeter Riddles
is mostly Philip's book - he wrote it - but I illuminated a letter in it and provided the image for embossing the front cover.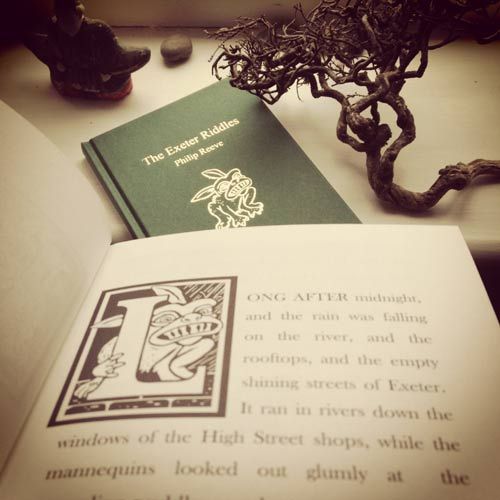 Philip drew his inspiration from the odd little carvings on Exeter Cathedral, in particular, this little grotesque, below on the left. The front of the cathedral is a bit like a comic strip, with its panels filled with characters. Philip imagined what would happen if the characters came alive, and different points of Exeter's history started leaking into each other. The resulting tale is startling and funny.
And the story didn't stop with a book! Animated Exeter put on an interactive game, called
Time Winders
, based on Philip's idea of History Leaks, and you can
read about here
. Which explains the odd appearance of Romans in town.
(
Collapse
)