Hey, do you remember the Pop Up Festival's COMICS BIG-TOP OF AWESOME last summer? (You can click on this
Pop Up tag
for a refresher!)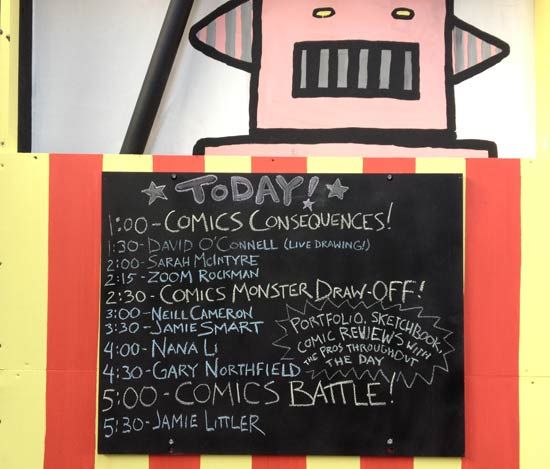 Well,
Dylan Calder
and his crew have made a video of interviews with the different authors involved, including
Candy Gourlay, Ed Vere, Salvatore Rubbino, Nii Parkes, Emma Dodd, Sita Brahmachari, Daniel Hahn, Jane Ray, Sarwat Chadda, Gillian Cross, Karin Littlewood, Catherine Johnson, Michael De Souza, Julia Eccleshare
, SelfMadeHero's
Doug Wallace
and me. It's 25 minutes long, but have a browse if you like!
I'm working like mad on my Bologna Book Fair picture book deadline, so I'm not going out much, except for the occasional sanity/coffee foray. But big thanks to
Elliot Baggott
, who just brought us muffins. :)
In the meantime, go look at
the awesome stuff
the
Felt Mistress
is making for her Wizard of Oz tribute exhibition! Love the flying monkeys. The ones in the film scared the socks off me when I was a kid - I hated them - but these ones make me happy as anything.