I have a dream!
...A furry, tentacled, twitching dream that one day this nation will rise up and children and grownups will make comics, side by side; people will make books and read books and swap books and love books. We will read each other's stories; we will look up from them, we will connect with each other, and we will make more stories together. ...And hello, what is this?!! It is
already happening! Hurrah!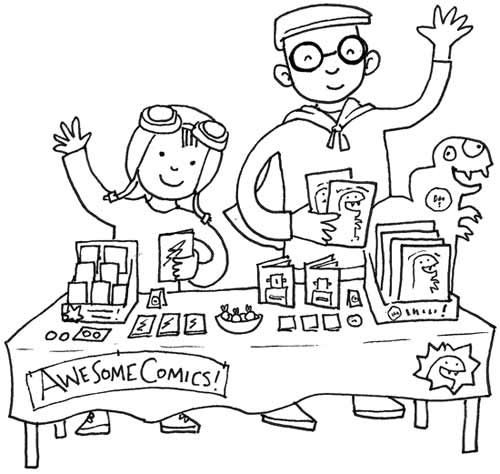 Comics festivals are springing up all over the country, where anyone of any age can sell their own comics! But most of the festivals are aimed at grownups, there aren't dedicated children's comics festivals. But
The Phoenix Comic
is planning to change this! On
Saturday, May 4th
, they're going to start up
Oxford's first Children's Comic Festival at The Story Museum
. People can meet and draw with comics creators, take part in and lead workshops, buy and sell comics, and get comics signed by The Phoenix Comic team, the
DFC Library
,
LOAf magazine
and other comics. But
what I'm hoping is that some kids will also take up the opportunity to get their own tables and sell their own comics.
This beats a lemonade stand any day! If you're new to this, here's what you need:
And it's a good idea to have some of these things, too (especially the tablecloth, maybe some cello tape for fixing stuff).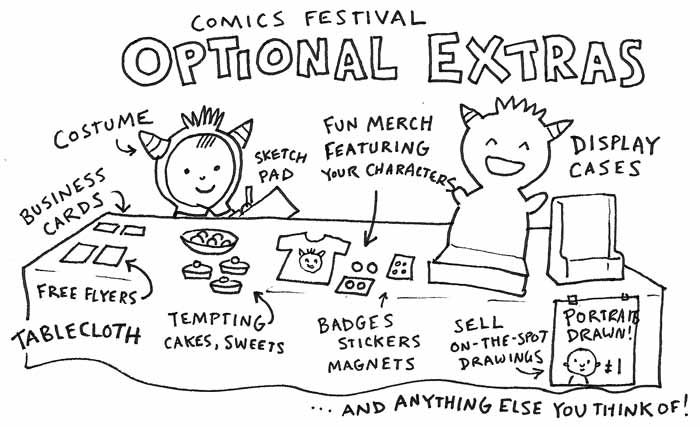 Just imagine having your own pop-up shop for a day! Quick, grab your drawing supplies, get drawing, then find a photocopier or scanner/printer!
I'm excited about The Phoenix Children's Comics Festival because it'll have some of the best people in the business there. (Find out more about
The Phoenix Comic and its creators over on its website
.)
Neill Cameron, Jamie Littler, Laura Ellen Anderson
(
Collapse
)