So what do writer and illustrators need from our publishers? If you'd have asked Babette Cole and me at the end of the
London Book Fair
at the
Booktrust
party, we would most likely have answered:
* Ponies
* Frocks
* Smooches
* Pink sparkly drinks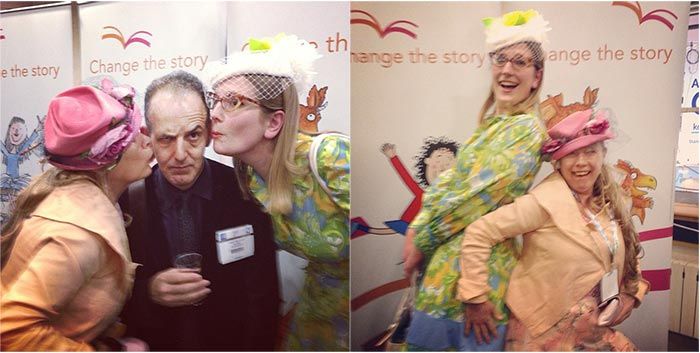 But no... *switches hat* ... I am a SERIOUS WRITER AND ILLUSTRATOR. And yes, I need stuff from my publishers.
Booktrust
invited me to speak about this on a panel with this most excellent gang. From left: PR guru
Justin Somper
(who chaired and gave the most carefully researched intros, bravo!), Bookbrunch founding editor
Liz Thomson
and Curtis Brown agent
Stephanie Thwaites
(who's good friends with my agent, so we'd had a few laughs over drinks before then).
I had thought we might be speaking with a room full of publishers, but almost everyone in the audience was a writer or illustrator, with one or two agents and publishers. I was hoping very much that it wouldn't turn into a big moaning session (and it didn't); I so often hear writers and illustrators saying their publishers aren't doing anything for them, and they're wondering why the publisher even bothered to publish their books. Often they follow this by saying that they've been thinking about self-publishing, perhaps use online crowd-funding.
We KNOW our publishers can't do everything
, that readers look to authors themselves to be inspired to buy their books, that publishers have limited budgets, and that it makes business sense not to devote quite as much of their time to a book that's selling millions of copies versus a book that sells hundreds.
At the same time, we're expected to be writers, artists, bloggers, e-mailers, stage performers and educators. (I itemised the jobs from my blog post,
The McIntyre Way™
, and added two more jobs: accountant and housewife. Possibly lobbyists, too.) I estimated that I can easily spend 70% of my time doing publicity work when, really, I'd rather spend 70% of my time writing and drawing.
So what CAN our publishers do to help us so we actually have time to write and illustrate?
I blogged about this earlier, putting the question out there, and had some insightful responses. (You can
read them here
, in the comments.) The number one thing all the authors seemed to be saying was:
1. COMMUNICATION
Let us know what you're doing
: You may be the most amazing publisher ever, getting the book into all the shops, news agents, supermarkets, selling co-editions, getting top media reviews for it, etc. But if you don't TELL the author any of this, the author may assume you're not doing anything. In the panel discussion, a couple people mentioned that they'd be happy to forgo expensive lunches with their publisher, if only they could have a chance to find out the basic facts.
(
Collapse
)