I'm very excited, I have a ticket to see the Royal Ballet's production of
Raven Girl
, based on the illustrated book by
Audrey Niffenegger
(who wrote
The Time Traveler's Wife
,
Her Fearful Symmetry
and
The Night Bookmobile
, among other things). Jonathan Cape just launched the book in the UK, and I drew a bit of fan art this evening.
Heh heh, my drawing doesn't really reflect the mood of the book - Audrey's modern fairy tale is much darker - but drawing this made me laugh. The story's about a girl who's born to a postman and a raven, and who feels more like a raven than a girl. She goes so far as to have surgery, losing her arms so she can have wings. Here's the drawing before I started mucking around with it digitally:
I can't wait to see how choreographer
Wayne McGregor
interprets it. I had dinner with Audrey last night and she says she's been to rehearsals and really likes the look of it so far. And here's my ticket!
There are still some tickets left, so hurry and get yours before they're all gone!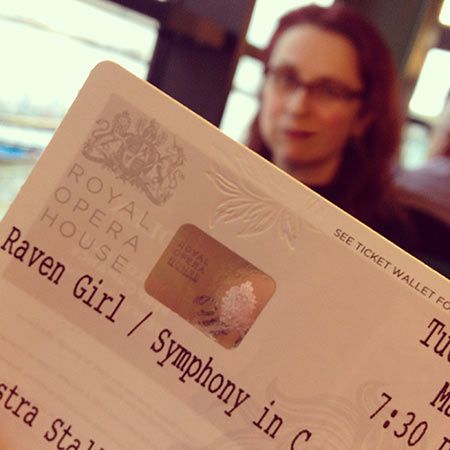 (
Collapse
)