May 20th, 2013
Children's Book Ireland
Annual Conference: Here's my sketch of
Jon Klassen
, author of
I Want My Hat Back
, giving his talk. I love that book so much, how deadpan it all is. Jon said something about his characters in it being bad actors, just going through their lines. Which is terribly funny. Read it, if you haven't.
I'm not quite sure why this Vimeo version of it lists it as R-rated. I suppose it does have a disturbing element to it.
And
Hervé Tullet
with his book's gaping plot hole:
Herve's been introducing me to
Leó Ferré
this evening.
A couple images from today at the
Dublin Writer's Festival
has started off with a bang! Or should I say... a GROWL? Today I led a big pack of boys from Scoil Fhursa in reading
Morris the Mankiest Monster
and drawing their own awesome monsters.
To begin, here's the monster they helped me draw.
Then they were off! We had a huge roll of Fabriano paper, oil pastels and chunky crayons, and I encouraged them to draw big and bold. And they did!
Big thanks to the teachers, assistants and head librarian
Mags Curley
(far right), and
Irma Grothius
who escorted me there and back.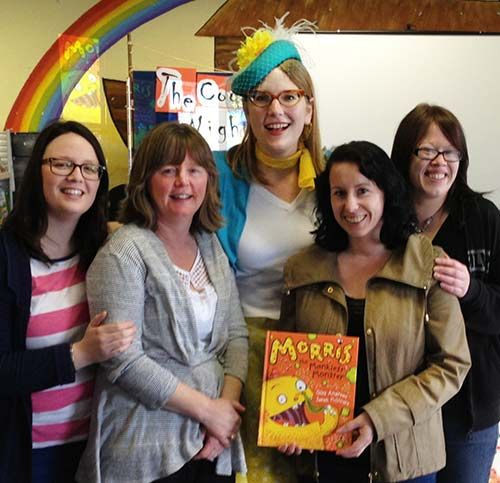 More monsters! If you want to get involved in the
Get Drawn In
programme this week,
check out the programme here!
More good news:
Mountains to Sea Festival
in Dún Laoghaire just announced their Schools Programme today! And special treat, my fabulous studio mate,
Gary Northfield
, will be doing a
TEENYTINYSAURS event on Friday, 6 September
. Find out about it
on the Mountains to Sea website here!
(
Click for more monsters under the cut!
Collapse
)
So