Last night was amazing, I went with
Audrey Niffenegger
to the Royal Opera House to see the ballet she'd help make! It was based on the fairytale in her picture book of aquatint etchings,
Raven Girl
, and the ballet really captured the spirit of the book. I loved how the performance was confidently narrative - the story was fascinating and easy to follow - and the set was gorgeous. This is a ballet that illustrators and graphic designers will love as much as dance enthusiasts.
Which made it funny that the second ballet, after the interval, was everything I suspect that would make most of illustrator friends run away in fright: lots of chicks in sequined white tutus with wide smiles, no costume or set changes, no story.
Symphony in C
was technically brilliant, just so odd after the dark, fascinating complexity of
Raven Girl
. A weird combo. I leaned over to Audrey and asked, 'When is the Raven King going to appear and snap up the dancers one by one?' and she said, 'You have to draw that'.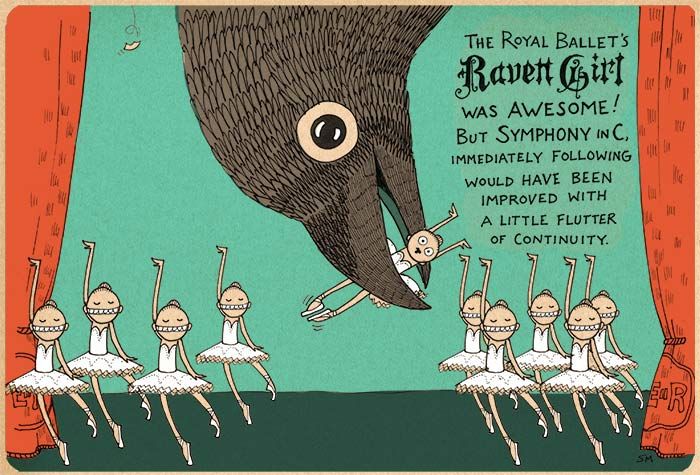 But don't let this put you off.
Raven Girl
is jaw-droppingly awesome and there are
still some tickets left on the website
. My experience with ballet was of the pink tutu variety. I thought maybe I wanted to be a ballerina, if I couldn't be a mermaid. I'm the tall kid in the photos. And then I became the tall, chubby kid, and could never master the splits, and it all went horribly wrong.
Raven Girl
isn't a pink tutu ballet. One thing I loved about it was the way the set looked so much like an aquatint; it had the same colours and textures you see in Audrey's prints, and then there'd be a slight change in the lighting effects and the set would look even more flat, like it was printed on paper. And a bit of set would rise and have wavy, deckled edges, just like the kind you get on handmade paper. At one point, characters were dancing in front of enormous pages turning in a book; I loved it, anyone who loves books - the feel, the smell, the texture of them - would love it. I felt sucked into storyland.
(
Collapse
)