Last night I went along to the Royal Festival Hall to meet lot of women that the fabulous
Laura Dockrill
had invited. She thought we should all get together and talk hardcore business and swap cards, that sort of thing. I didn't actually have any business cards printed up, but I had some sweets bags and stickers and stuff, so I went trotting along with my bag of little packets.
I hardly knew anyone there, but I'd talked with a few of the people on Twitter and was super-chuffed when I met
@Coxxy
- whose real name is
Sarah Yewman
- who had made a little mini-me with her six-year-old daughter! Her daughter was very precise with what she wanted: my polka-dot boots from the
Hay Festival
, tortoise-shell specs, Superkid green outfit and a netted hat. Excellent.
I was hit fairly instantly with the realisation that I would come home with this big stack of cards and have NO IDEA who any of these people were. I have the worst memory of anyone I know (which is partly the reason I blog). We did this sort of speed dating thing, chatting for three minutes, then swapping when someone hit a gong. So I tried to take a photo of the people I talked with, holding their card.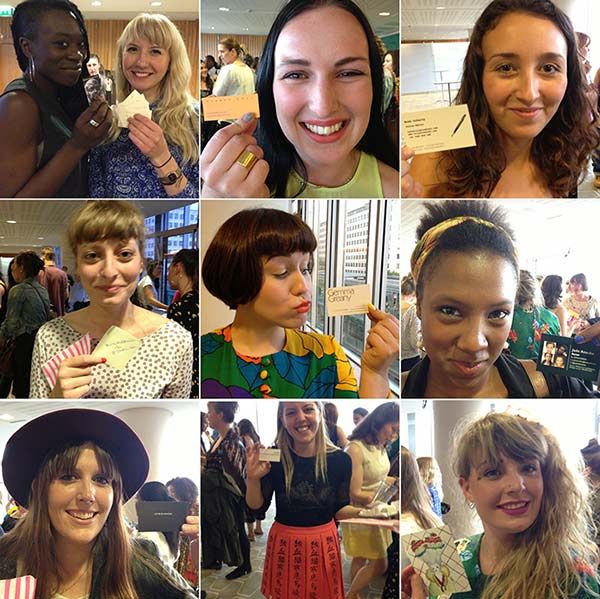 Top row from left:
Bimpe Alliu
,
Louise Haworth
,
Hannah Hall
,
Rosa Doherty
;
Second row:
Holly Walker
,
Gemma Greany
,
Jade Anouka
;
Third row:
Georgie Rogers
,
Eda Giray
and
Rosie Beard
(
Collapse
)