The heat is on. It's been a bit crazy here since I got back from holiday, trying to catch up with everything. And jet-lag has rendered me almost ill with tiredness, but when I go to bed, I'm wide awake. I always sleep like a rock, so it's a good lesson in what people with insomnia have to go through. Last night I had a huge list of things to do, but I was wiped out and could only manage a drawing, to cheer myself up.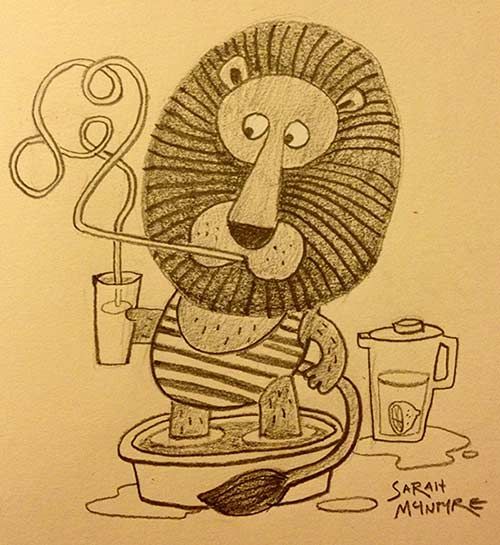 Heh heh, and my normally flat hair's gone all frizz, I'm looking a bit lionine myself.
I had a meeting yesterday afternoon at the
British Museum
with Shelley Mannion and Johanna Perez, who are going to help me with Sunday's
Create a Travel Comic Workshop
. Come make comics with us; there are still a few places left ! And while the Grand Court is a bit muggy, it's lovely and cool down in the guts of the museum, where we're having the workshops. I notice a few other people have discovered this; the sofas in the lobby are full of kids playing hooky from their hot school group tours.
Details if you want to book.
Edit: ARGH! I see my external links aren't working at the moment! Here's the link code, if you don't mind doing a clunky cut-and-paste into your browser. Or you can right-click and open it in a new tab. Sorry about that, I've sent a query to LJ!
http://www.britishmuseum.org/whats_on/events_calendar/event_detail.aspx?eventId=426&title=Create%20a%20travel%20comic&eventType=Digital%20workshop
Our meeting went so long that the British Museum was closed when I left, and I snapped this photo. Going to the British Museum was the thing I wanted almost more than anything when I was 12 and obsessed with Egyptology, and the thought that someday I'd be able to wander about after hours would've thrilled me to no end. Still does. In fact, I have a theory about that rather-rubbish book,
The Da Vinci Code
, that one of the reasons people liked it so much was because it takes them into the Louvre at night, when they're not allowed to be there. Same with
The Time Traveller's Wife
(which I love): Natural History Museum at night. If someone was writing a formula for a bestseller, a famous museum after hours would probably figure in there.
Oh, and Soho Square Gardens has turned into a beach, complete with palm trees: