Walking through London as a twelve-foot-tall person with remarkable hair proved to be a life-enhancing experience which I can recommend to anyone. A lot of people have asked about the monster wig I wore to the
Oliver and the Seawigs
pre-launch party (
see photos in the last blog post
), so let me give you an insight into its frothy secrets.
Photo by Blast Photo
The fancy wig obsession started while I watched Sofia Coppola's film
Marie Antoinette
as research for drawing the Princess Spaghetti books:
And here's some fancy hair I painted into a party scene in
You Can't Eat a Princess!
: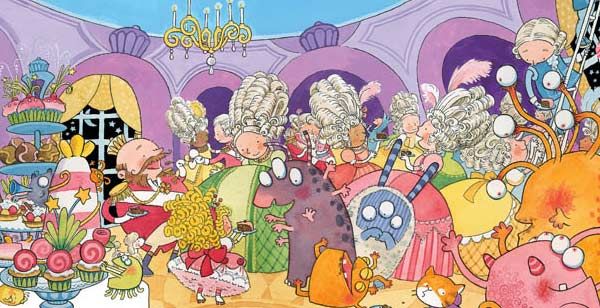 I got more excited about fancy wigs when I worked on an exhibition at the Discover Children's Story Centre in Stratford called
MONSTERVILLE
. Part of designing our monster village involved creating a beauty parlour for weird and wonderful beasts, and I designed several wigs for it, then made all my friends model them (as one does). Here I show off two of the 2-D wigs with my good-sport Seawigs co-author,
Philip Reeve
:
I thought,
these look great!
and scoured the Internets for Big Wigs. Which is where I discovered the work of designer
Kate Cusack
. Not only were her wigs marvellous, but they were made out of CLING FILM (or 'saran wrap', if you're North American). I thought, I could afford this! But I also though, I wonder how much cling film one would need to make a wig that large. Five rolls? Ten rolls? A hundred?
(
Collapse
)