I haven't been posting many drawings lately because I've been drawing all day, every day to finish a picture book in time for the Frankfurt book fair deadlines. (And I'm not allowed to show those drawings yet.) But there's been amazing stuff going on around me at the studio! As I was leaving yesterday, I passed this huge, beautiful monster head and had to ask questions. Meet
Sam Wyer
, seconds before he was eaten up by a Jabberwocky:
Sam is (or was, before he got et) a theatre designer, puppet maker and illustrator, and he's currently working with friends on the cast of the
Jabberwocky poem
to take to a festival. Look at these great mome raths! I didn't take that photo, it's over on his Instagram account (he's
@auntyrhinum
). And you can follow him on Twitter,
@Woodenfingers
. ...Aw, look at that little rath bum!
And I got to meet his partner who, with her assistant Alice, was nearly buried under a mountain of fabric, theatre costume designer
Laura Drake Chambers
. (She's
@LauraDrakeC
on Instagram and
@LauraDrakeC
on Twitter.) Oh, and she's children's book illustrator
Mark A Chambers
' sister! Small world.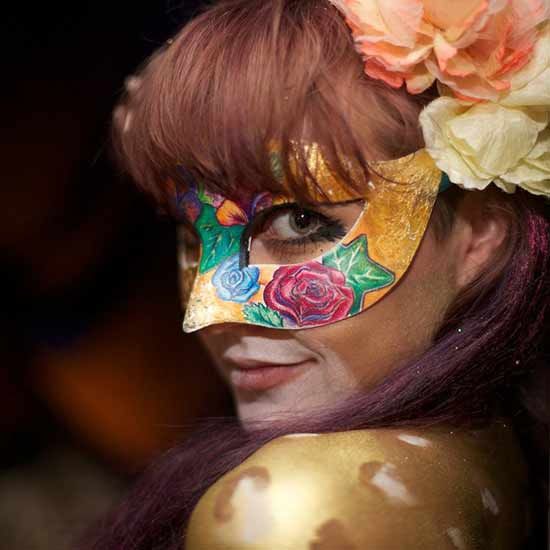 Photo from Laura's Tumblr page
I'm terrible with names, and I can't recall the name of Sam's friend who's helping him, but here he is with a fine walrus head. I also saw what looked like two ostrich legs sticking out from a shelf, that room's full of incredible handmade stuff.
Speaking of making things,
Karen Ball
has just interviewed me about the wig, working with my crafty studio mate
Deadly Knitshade
, creativity in general over on her craft blog,
Meeting Makers. Go have a peek!
And leave her a nice comment if you get the chance. :)