Look, we have a new little star in the studio! Our very own Sea Monkey!
We really ought to be more worried, because when there's one Sea Monkey, there are always lots more near by. True fact: when you are at sea, you're never more than nine feet away from a Sea Monkey.
You, too, can stitch your own Sea Monkey! Or a whole jabber of Sea Monkeys, if the urge overtakes you! There's no better prezzie to give along with a copy of
Oliver and the Seawigs
:
* If your friend likes knitting, you can print out a free copy of the pattern and tuck it into the book.
* You can present both the Sea Monkey and the book together, what a fabulous, cuddly gift that would be!
* Or you can just make the Sea Monkey, if you like! Send photos! :)
Here's a peek at the start of the pattern, which you can
download from my website
: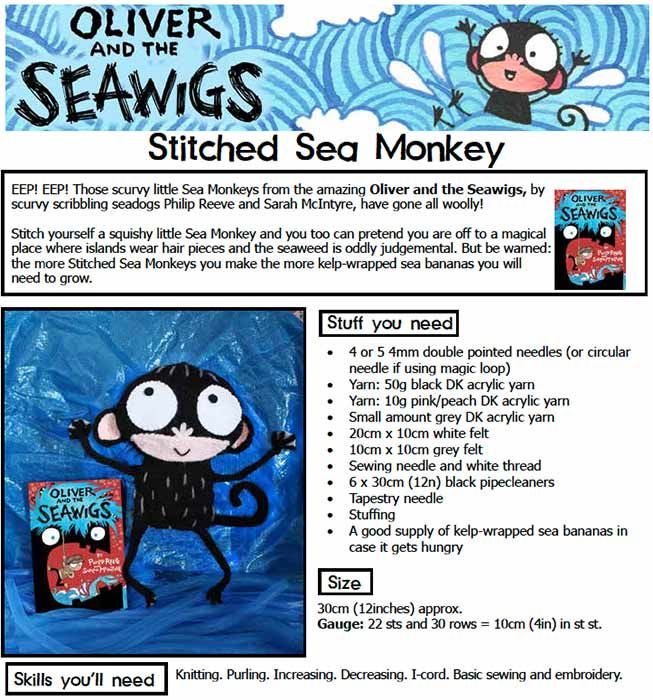 A big thanks to my studio mate
Lauren O'Farrell
(aka
Deadly Knitshade
) for putting together this pattern, and thank you, Oxford University Press, for commissioning it! If you subscribe to her free
Stitch London
newsletter, you can get lots of updates like this, and there's even an
Oliver and the Seawigs
giveaway. (Once you've subscribed, you can look at the archive of newsletters and it's in the most recent.)