Oxford University Press has been busy selling foreign rights to
Oliver and the Seawigs
so our book can come out in lots of different languages (Japanese, French, German, Turkish, American(!) and possibly a few more). I've had books published before in
other languages
, but usually I just get a copy of the book and that's all I ever hear about it. This is the first time I've had interaction with one of the foreign publishers -
Dutch publisher Veltman Uitgevers
- and they've been wonderfully enthusiastic! My first contact was with the translator,
Sandra Hessels
(
@creativedifrnce
on Twitter). Who also, very relevantly, just happens to be a mermaid:
Fortunately my illustrations translate very well into Dutch, but you don't usually hear much about the translator, and SO much about the Dutch reading experience will depend on her skill. Don't forget that page near the front with the tiny words on it... ah, there's Sandra!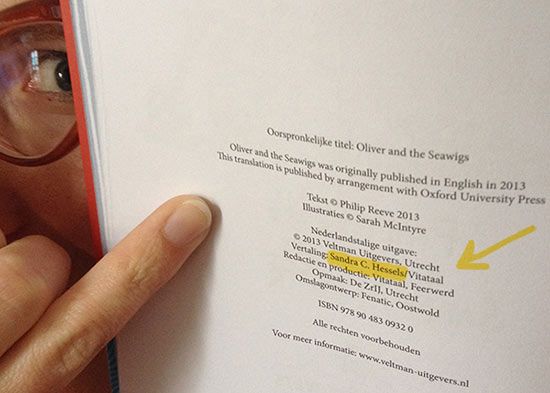 (
Collapse
)