November 14th, 2013
That good book: have you read
Chris Riddell
's latest work,
Goth Girl
? It's lushly packaged. Look at these gorgeous black and foil endpapers. In my illness-addled state, I read this book and watched some Lady Gaga videos and something struck me: Goth Girl and Gaga's new
Artpop
album are trying to do almost exactly the same thing!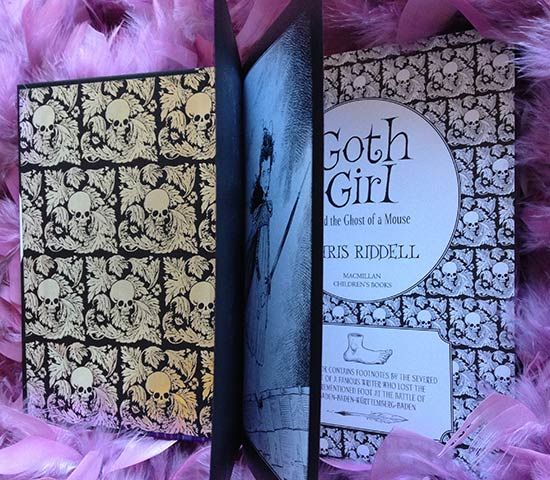 Gaga's new
Applause
video revels in wild, slightly arch, costume, and creates a mishmash of over 40 pieces of iconic artwork. She's trying to entertain, make people think a little bit and want to look stuff up. She wants to come across as very clever while being a bit tongue-in-cheek, and make some decent money while she's at it. Even the look of her, she's thin and spidery and pale. Now go through that list again, apply it to Goth Girl, and everything stands.
(
Click here for more under the cut!
Collapse
)
Yesterday I was terribly unwell and closeted myself away - just like this - in my eight-poster bed, with potions, hankies and smelling salts. And a good book, which cheered me to no end.
Oliver and the Seawigs
meet all your Christmas prezzie needs!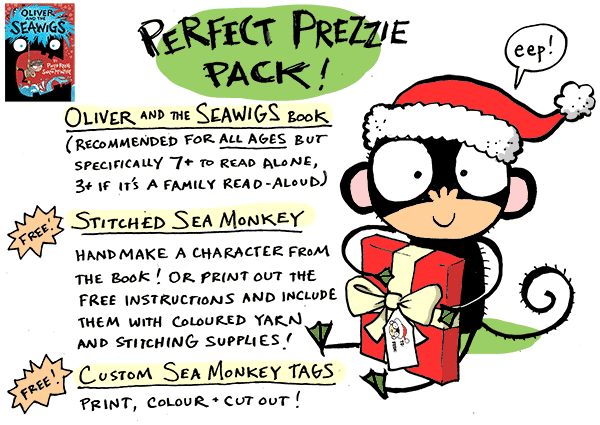 Gift tags! This was Philip's idea, and I've provided a variety of formats to print out, colour if you like, cut out and attach to your parcel. There's a traditional woodcut Sea Monkey and a more cheeky line drawing Sea Monkey. Hope you like them!
Download the PDF here
.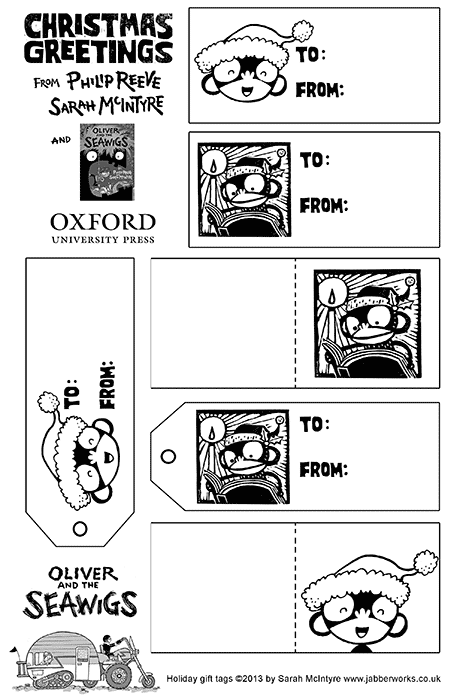 It's been fabulous seeing photos of people's Stitched Sea Monkeys come scampering in!
Fabulous Sea Monkeys by
Holly Skeet
and our the mother-in-law of our Seawigs Dutch translator,
Sandra Hessels
(as yet without a mouth)

Stitched by
Jo Morris
and writer
Gillian Cross
You can download the stitching pattern (designed by my studio mate, Ms
Deadly Knitshade
)
here on my website
.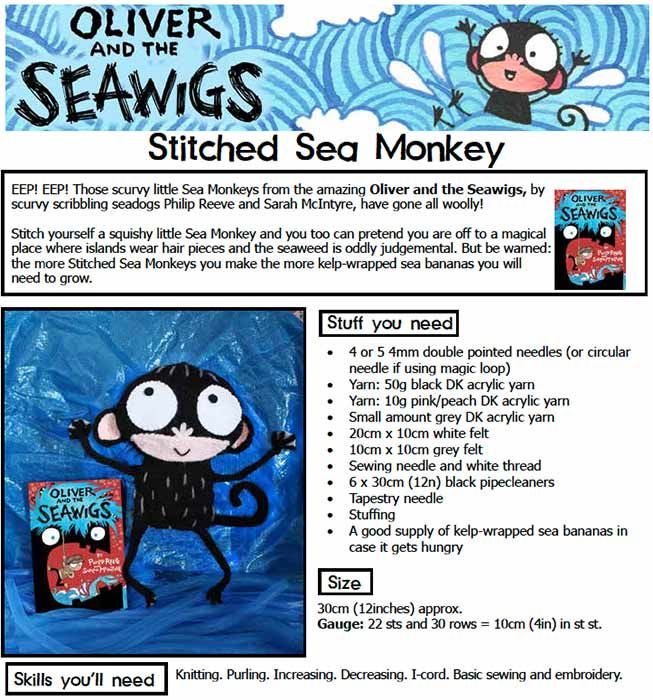 Hey, if you wanted, you could even draw your own Sea Monkey giftwrap! Or take some time on Boxing Day with the recipient of your Stitched Sea Monkey, drawing its portrait. Here's a little tutorial video,
How to Draw a Sea Monkey!
Oliver and the Seawigs - How to draw a Sea Monkey
from
MB Films
on
Vimeo
.
Or if you'd rather, you can print out the tutorial sheet
from my website
and include it with your parcel! Or
download the PDF direct here
. A perfect activity for a restless Boxing Day.
Hey, Philip Reeve and I have worked out a way to make