I thought I'd compile a list of some of the yummiest things out there this Christmas - stuff I've geeked out over this year - in case it inspires you in your Christmas shopping. (And no, it's not just my books.) These are things you might get for children or teenagers but end up keeping for yourself.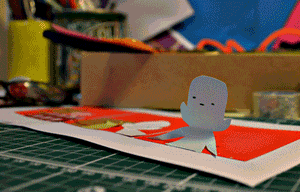 1. The first thing I'd make a mad dash for is
Philippa Rice
's new book,
We're Out
, which I'm planning to review soon on this blog. Lovely, warm-hearted, stocking-size comic book that will inspire kids and adults to get making stories with the bits and bobs lying around them. Available from
Philippa's shop
.
Edit: And you can read my interview with Philippa here!

2.
Pens!
You can't go wrong with good pens. People are always getting frustrated that their work doesn't look good enough, and sometimes that's because they're using rubbish materials. Get them something nice to work with. I love
Pentel's brush pen
. It comes with a couple cartridges, but if you think the person will use it often, you can get another envelope of
four replacement cartridges
. I love
Seawhite sketchbooks
because they're cheap and cheerful and the paper's good for drawing. Sometimes if you give a person a gorgeous sketchbook, they won't actually use it because they'll think all the drawings will have to be amazing. Give them a stack of these sketchbooks and let them draw lots of quick, easy, fun drawings and not worry about them being perfect. They come in several size, but A4 fits in a rucksack and A5 fits in a handbag. And
Faber Castell Pitt pens
come in a handy pack of four different tip sizes, which are also lovely for drawing.
(
Collapse
)