December 5th, 2013
Oliver and the Seawigs
managed to blag its way into doing a month of work experience at Oxford University Press. So the staff there are documenting his time as a sort of Christmas advent surveillance system: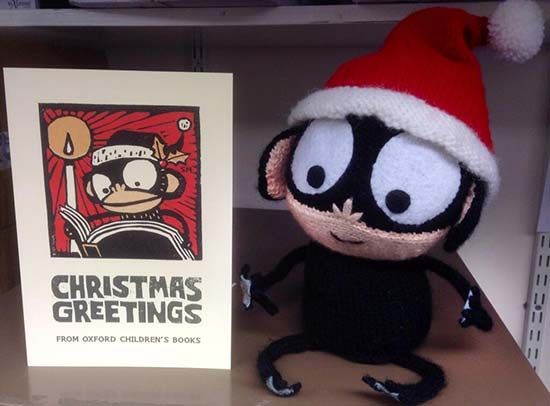 ...Look at it, so well behaved. I hope they realise Sea Monkeys can't keep this up for very long.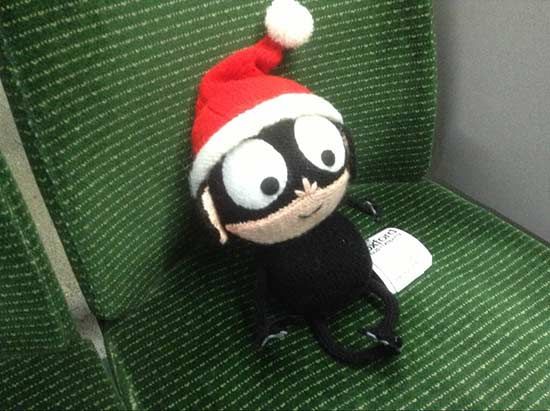 OUP, WHAT are you doing? Are you honestly going to let in this little rascal, with all your nice tippy coffee cups everywhere, papers to spill on, computers to hack?
I guess so. Well, I can't decide if the OUP staff are very, very brave or TERRIBLY NAIVE. Be warned. They are documenting what is sure to be their downfall on Twitter as
@OUPChildrens
, under the
#Seawigs hashtag
. Please ring the police or the nearest zoo to Oxford if you see it getting too messy.
Oh, and you can also
knit your own Sea Monkey
...but that would be downright irresponsible.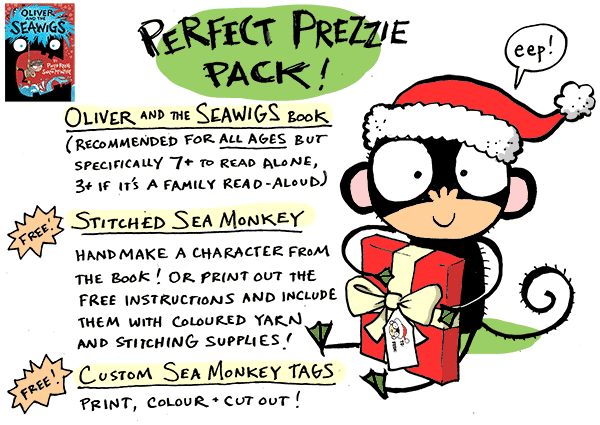 Somehow one of the Sea Monkeys from
Oliver and the Seawigs
by
Philip Reeve
and me has just been shortlisted for the
Blue Peter Book Awards
!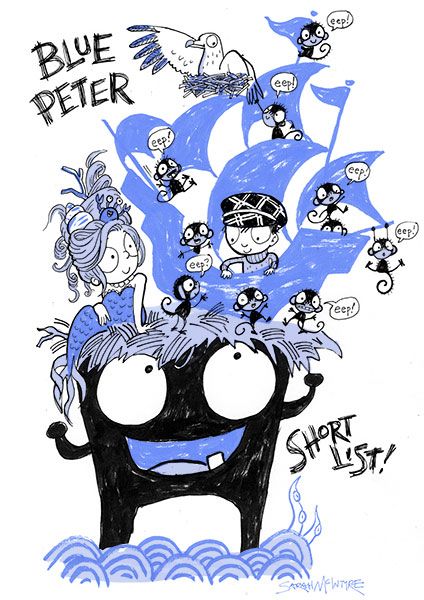 Here are the presenters, Radzi and Lindsey, making the announcement:
And here are the final three books in the
Best Story
category:
*
Oliver and the Seawigs
by Philip Reeve and Sarah McIntyre (Oxford University Press)
*
Rooftoppers
by Katherine Rundell (Faber & Faber)
*
Whale Boy
written by Nicola Davies, illustrated by Joe McLaren (Yearling)
The three in the
Best Book with Facts
*
Marvellous Maths
written by Jonathan Litton, illustrated by Thomas Flintham (Templar Publishing)
*
Tony Robinson's Weird World of Wonders: World War II
written by Tony Robinson, illustrated by Del Thorpe (Macmillan Children's Books)
*
The World in Infographics: Animal Kingdom
written by Jon Richards, illustrated by Ed Simkins (Wayland Books)
(
Click here for more under the cut!
Collapse
)
So exciting!