I think this is my last party until Christmas; my feet are sore, all the yummy canapés have expanded my waistline, and I need to go do some work now. But in the meantime, some photos. I think I preferred my big blue wig party outfit, last night's looked better in the mirror at home than it does in pictures, where it's a bit big and baggy. (Getting dressed is such a hit and miss sport, eh?) Great to catch up with some excellent book folk.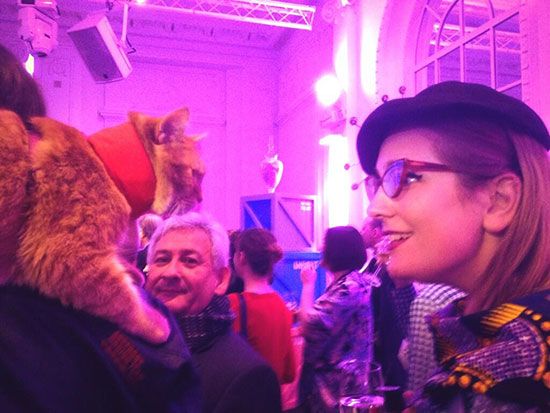 Photo via Barry O'Donovan on Twitter
What, a CAT at 8 Northumberland Avenue? Ah, but this is a famous cat, apparently! It's
Street Cat Bob
and his owner and he has about a zillion Internet friends. I was amazed by the cat's composure in such a crowded room, while MD
Philippa Dickinson
gave her speech.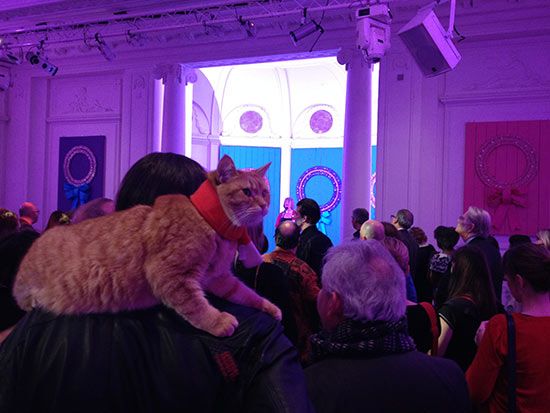 Now THIS guy writes and draws some of the best comedy in Britain. I'm a huge fan of
James Turner
's comics, including
Star Cat
in
The Phoenix Comic
and his
Super Animal Adventure Squad
book, which David Fickling and RH co-published. (I included his book in my
Top 20 Christmas Prezzie Tips
.) James is
@eruditebaboon
on Twitter, go follow him if you're not already! Oh, and giant Tunnock's, look at that. And giant McIntyre.
Look, it's legend
Shirley Hughes
! With her fab daughter
Clara Vulliamy
!
(
Collapse
)