It's time for a story!!! Are you sitting comfortably?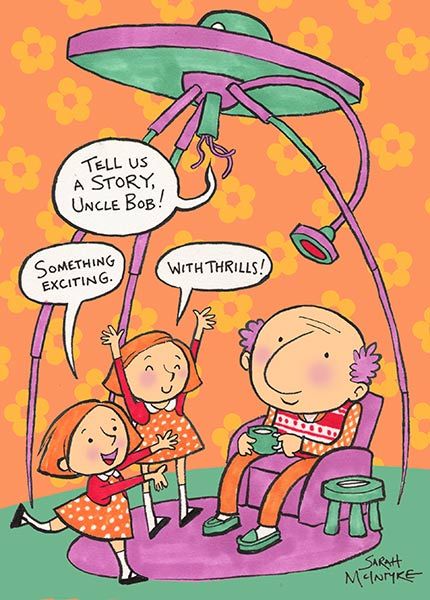 Then let
Darry Cunningham
begin. Actually, it's Uncle Bob, Darryl's wonderful elderly gent who
just happened
to be on-site when so many famous stories were playing out. These stories include a particularly Uncle-Bob take on
War of the Worlds
,
Frankenstein
,
Tarzan
,
King Kong
,
Journey to the Centre of the Earth
and
Dracula
among others. Here's Darryl with the two volumes of
Uncle Bob Adventures
, short stories in comics format, beautifully published by
Blank Slate
(who also published our
NELSON
anthology).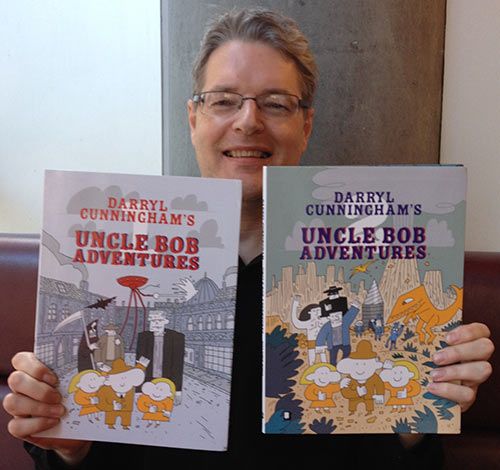 Volume One
of the
Uncle Bob Adventures
is already out, and you can buy
Volume Two
this spring. Darryl's mostly known for his controversial science and politics comics (gosh, does he get
FEEDBACK
!) and his insightful comics about mental health issues, including
Psychiatric Tales
(which I
blogged about here
). But this is his first foray into child-friendly comics, and I'm curious to see how they'll be received. (I know many adults will enjoy them.) Darryl's aesthetics are very much shaped by printmaking - woodcut and lino cut in particular - the works of L.S. Lowry and British wartime artists. His images have a spare, graphic quality, with carefully chosen, limited colour palettes.
(
Collapse
)