Last night I was feeling a bit tired, and cheered myself up by drawing myself with a big woolly mammoth.
I found the inspiration for this earlier in the day at Foyles bookshop on the Southbank, where I found this lovely copy of
How to Wash a Woolly Mammoth
by illustrator
Kate Hindley
and writer
Michelle Robinson
. Kate draws a beautiful mammoth, and the story isn't completely unlike
There's a Shark in the Bath
; both feature bathtime chaos and silly bubble hairdos. I think kids who love sharks (and there are lots of them!) will go for mine, and anyone who loves a big furry playmate and a cuddle will love Kate and Michelle's book. (
Oh, go on, it's bath party time; buy them both.
) I love mammoths, I had to get this book.
I love Kate's work, I think she's set to be one of our top picture book illustrators. She manages to combine elegant, sophisticated line work and colour palettes with a warm cosiness and fun sense of play that so few illustrators ever achieve. (And she's repped by the same agent as me!
Party pics here
...)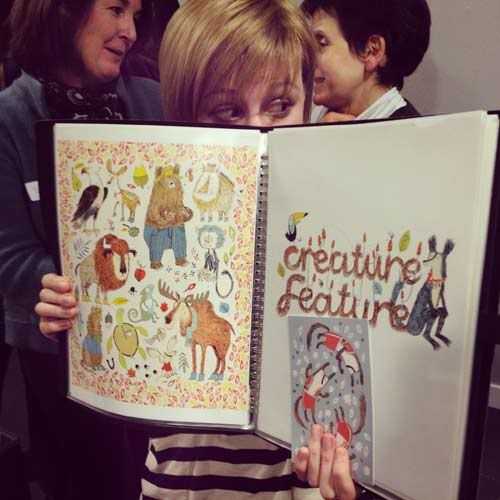 My other pachyderm adventure was yesterday, to the National Theatre, to see
The Elephantom
. I work upstairs from theatre designer Sam Wyer (
@Woodenfingers
on Twitter,
studio photos here
) and he's been putting in loads of time getting ready for this production. I stopped into the studio to say hi, found out the play is on RIGHT NOW, and managed to get the last tickets for the next morning. And I'm glad I did!
(
Collapse
)