So I went straight from Gatwick Airport to Leicester and thought I was going to crash from tiredness, but it was fun! These guys helped a lot, I always perk up when I see writers
John Dougherty
and
Bali Rai
.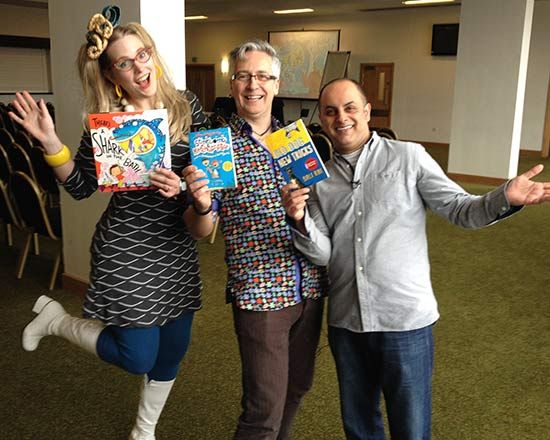 I had two days of working with kids for
Leicester Author Week
- 800 kids in total!! - focusing with half of them on
Oliver and the Seawigs
and the other half on
There's a Shark in the Bath
. Even though
Seawigs
isn't a comic, the session had a comics focus and in the workshop half of the event, I led them in a big Sea Monkey Comics Jam. Here you can see one kid working on the last comics panel.
Take that, you shark guts! ...Take that, you poo poo head!
Ha ha, it's so much fun reading the stuff kids write. I also managed to pop into a shop near the Tigers Rugby Club, where we were meeting, and buy a few fun odds and ends, including a blue hair, a Cleopatra headdress and an inflatable shark. You never know when you might need an inflatable shark.
For the younger kids (5-7), I led them in drawing a shark. I love seeing all the variations on my drawing; all these sharks have such unique character.
(
Collapse
)