June 15th, 2014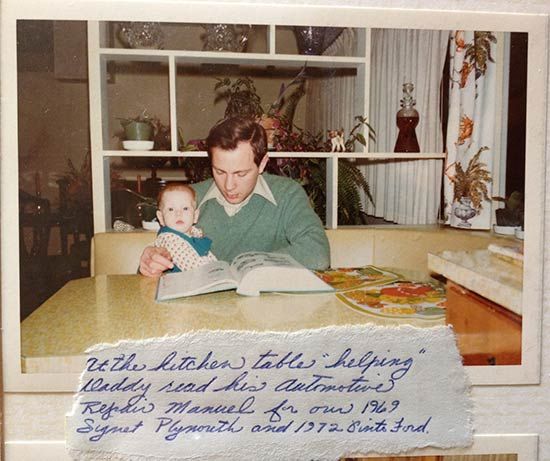 Here's a photo of my dad and me, which my mother has carefully labelled in the photo album. My dad always picked top-quality literature.
East London Comics & Arts Festival
, organised by young and beautiful
Nobrow Press
, and always had some reason I couldn't go. But this year I headed up to Hoxton station and walked along Hackey Road to see what all the fuss was about.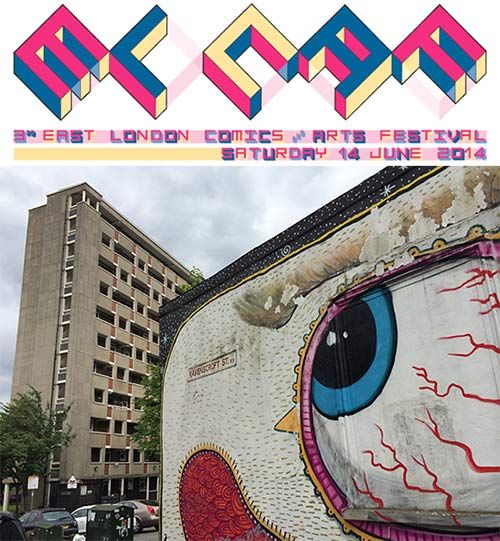 I hadn't been up to Hackney Road for ages, and there was lots on which to feast my eyeballs.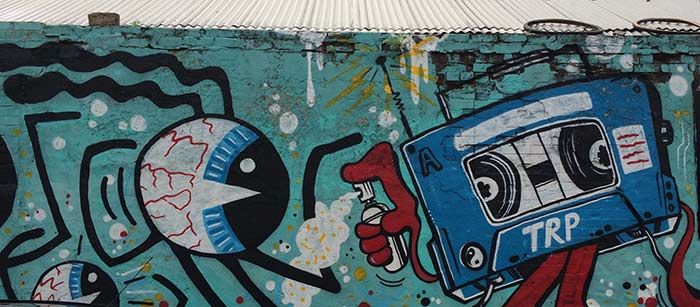 Check out this cloud-blue house, just past Hackney City Farm. And then I finally reached the ramshackle little factory area where the fair was happening, and at 10:15am, there was already a queue to get in. I'm very glad I was early, as I saw complaints on Twitter from people who arrived after 1pm or so, when the festival was running a one-in-one-out policy.
Steve May
said he couldn't get in at all, although
Steve Antony
said he arrived half an hour before closing and managed to get in and do a fast sweep of the place. Whatever the case, the venue started out comfortably full, but by lunchtime was HEAVING.
I made a beeline for the table of one of my all-time favourite self-publishing heroes,
Philippa Rice
. And she had a new comic out! I bought one for me, and my sister.
You can read my interview of Philippa about We're Out here
. Philippa has such a great playful way of making comics, both with drawing and with collage, and I love her gentle humour and beautiful colour palettes. Her work's almost the exact opposite aesthetic to the
Comics Unmasked exhibition I visited earlier at the British Library
, and I think hers is just as subversive, in its own way. A couple weeks ago, I read an
interesting Spiked article
, surmising that some people
'...
think that unhappy and twisted stuff is correspondingly profound, while comedy is trivial and facile. The truth is often the other way round, where horror and gore are really just sentimentality, prurient and moralistic at the same time, while comedy allows marvellous slippages of meaning that are much more intelligent.
'
EXACTLY. And the humourous alternative doesn't have to be The Beano, either. (People always seem to mention The Beano, and there's so much more out there.) Philippa's comics are one of my first ports of call.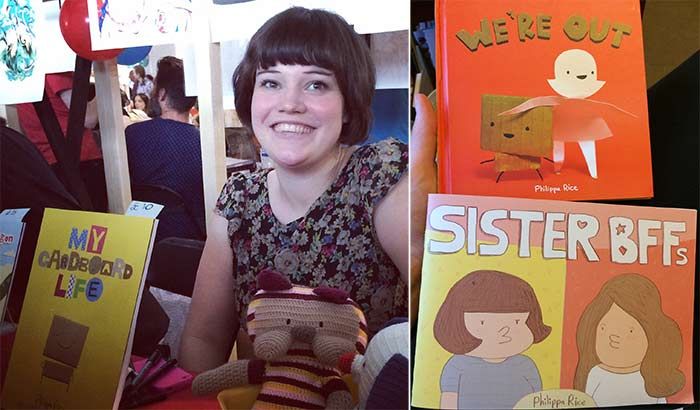 And one of my other ports is
Isabel Greenberg
's table! I love her
Encyclopedia of Early Earth
so much; it completely taps into the woodcut-printmaking, limited colour palette aesthetic I appreciate, and I like the way she sets up a story as some epic legend and then humanises it with little anachronistic bits of dialogue and humour.
I haven't been keeping very good tabs on people on the Internet, and I thought her latest mini,
Rites, Customs and Histories of the Great Empire of Migdal Bavel
was a comic, but it's more of a historical guide with text and pictures. It looks beautiful all the same, and I snapped one up. And then my eye was caught by the colourful Magic Capes display next to hers, and I ended up buying a copy of this gorgeous double-sided accordian print,
The Firebird
, by
Lesley Barnes
. I'd never heard of Lesley, but check out her website, she's amazing. She also picks up on a lot of folkloric imagery. Lesley was exhibiting with
Tereza Rowe
, who has a lovely young-readers comic out with Candlewick Press,
Hearts
.
(
Click here for more under the cut!
Collapse
)
For the past couple years I've been trying to get over to the