July 3rd, 2014
Summer Reading Challenge
! Get a kid hooked on comics and you have a kid who loves reading. In fact, you don't even have to 'get' kids hooked on comics; if you leave a kid in a room with a good comic, he or she will go right for it. And the miracle of comics is that, as soon as they've read the comic, they'll very often want to make one! What other form of reading inspires such instant creativity?
Pop over to the Summer Reading Challenge website
, where I've created a
comic Story Starter
: two panels of a comic, and you (or a kid you know) can continue the story.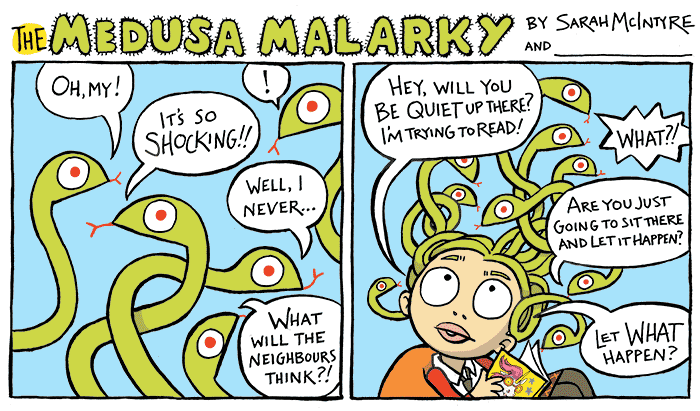 The downloadable sheet only provides six panels, but you're more than welcome to make lots more panels on another sheet of paper, or just use the first two and create panels any size and shape you want. (You can even finish the story just with writing and no pictures, but it's making comics I'm more excited about. Drawing a stick Medusa is JUST FINE.)
It might be fun to bring in some of the other Mythical Maze charcters! Or perhaps bring Medusa in the comic right where you live, to your home, school, supermarket, etc. Or take her and her snakes to the moon, it's your call. If you'd like to enter it into the competition, the closing date is
8 September 2014
.
(
Click for more under the cut!
Collapse
)
COMICS are very much a part of this year's Mythical Maze
Philip Reeve
and I COME FROM THE FUTURE... we can see into the future, all the way to September, when our mothership
Oxford University Press
will be launching our new book together...
CAKES IN SPACE!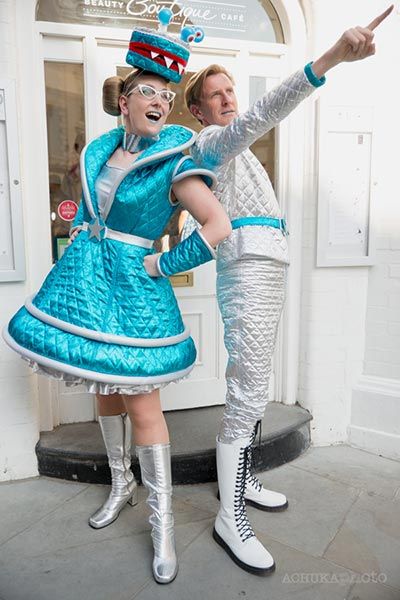 Photo by Michael Thorn, Achuka
Until Tuesday, no one had seen anything printed except the orange uncorrected proof copies, which were only half illustrated, with pencil roughs in the second half. But just before our press pre-launch party, a few copies of the final version arrived in Oxford, and the team brought them for us to look. Super exciting!!
Photos by Michael Thorn, Achuka
I can honestly say Philip and I are both thrilled with how it came out! It's printed on lovely paper and just like
Oliver and the Seawigs
, is such a nice thing to hold. Here it is, being displayed by
Julia Harrison
from
Daunt Books Marylebone, who will be hosting our Publication Day launch party in September. (I hope you can come!)
Photo by Michael Thorn, Achuka
These front endpapers weren't in the earlier proof copy! Here's a peek at the planet Astra and her family are setting off on their voyage to colonise, until something goes terribly wrong with the Nom-o-Tron food machine.
Photos by the Nova Mundi Tourism BoardOliver and the Seawigs
had a blue colour theme, and this one's orange. And did the editorial team come dressed to theme... oh yes!

Photo by Michael Thorn, Achuka
(
Click here for more under the cut!
Collapse
)
Since my co-author