Stuart and I share EVERYTHING, even hair extensions.
When Oxford University Press publicists asked last year if
Philip Reeve
and I had any
Cakes in Space
-themed photos to use for book fair publicity, this was the best we could get together at the time: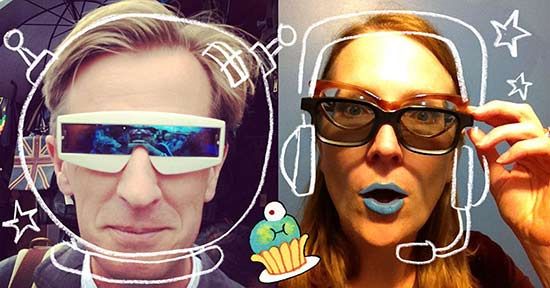 But we knew we wouldn't be able to draw outfits onto ourselves for stage events. (Actually, that would be very cool; possibly for another book.) And dressing up in space costumes is... just plain
fabulous
, so we set about designing something for ourselves. First, I needed a hat! Of course. There's this line in
Cakes in Space
, when space voyager Astra first meets a killer cake:
The top of the cake flipped open like a pedal-bin lid, revealing a wide mouth and lots of shiny teeth.
...And that seemed a good template for an INTERESTING piece of headgear.
My sculptor friend
Eddie Smith
offered to help me with the mechanics of it, and he's generally just good at this sort of thing. (He built the structure for my Giant Seawig.
Read about that in an earlier blog post.
) So here's Eddie, with a rough prototype, made from cardboard, tubing, a turkey-baster squeezeball, and cork and a bit of folded inner tube. Fill the inner tube with air and it tries to straighten; the mouth opens.
Ha ha, here's the more finished version, in action!
(
Collapse
)