July 11th, 2014
Camberwell Alumni Day
I can't answer for everyone; art college might be right for you, but wrong for someone else. But here are a few tips from my own experience and looking around at friends and fellow students who have gone to art college:
1. You don't have to go straight from school to art college.
Everything you do goes into the pot of good experience.
First, here's my background: Illustration wasn't my focus of study when I did my Bachelor's Degree in the USA. I studied Russian language and literature at Bryn Mawr, and did what's called a '
minor degree
' in History of Art. The art faculty came to a private arrangement with me where they let me take a few more studio classes than was strictly part of the History of Art requirements, so I still got in quite a bit of painting and drawing. But this course of study was a great preparation for being an illustrator. When I took the study-abroad option for my third year, I found huge inspiration in the art galleries and museums of Moscow, and it gave me a unique focus to what would later inspire my own artwork. One of the international schools in Moscow didn't have an art teacher, so I volunteered teaching art for half a day every Friday. This was rather frustrating, but SUCH good training for later, when I'd be leading workshops and standing on stage, presenting my book to crowds of up to a thousand kids. After my year of study in Moscow, I stayed for a second year, delaying my graduation, and worked at
The Moscow Times
newspaper as a full-time copy editor and occasional journalist. That experience taught me a lot about how the media works, how to catch mistakes in text, and how to write headlines and photo captions. (I often think of this blog as a series of photo captions.) I learned that I really didn't want to be a journalist, but I love the freedom of blogging; I can write what I want, when I want, and if I make the occasional mistake, it's unlikely anyone will care enough to sue me or fire me. I graduated with my BA in Russian in 1999 and didn't start art college until 2005. I had a career crisis, got depressed, couldn't draw properly, and starting college gave me just the boost I needed.
Some of my degree show artwork
Mature students rock.
When I was on the MA Illustration course at
Camberwell
, the people who seemed to get the most out of the course were people who had already been working for some time in the field. They knew which questions to ask and how to set themselves challenging projects. People who had come straight from a BA course seemed slightly bewildered that no one was telling them what to do, and they didn't know how to go out and supplement their training with outside courses, lectures and professional groups because they didn't really know what they needed. It's a bit of a sweeping statement, but with a few exceptions, I wouldn't really recommend anyone go to art college before they're 30. Study something else first, get work experience. And that way you'll avoid being part of the young groups who are desperately worried about maintaining their artist image, wearing cool clothes, getting drunk, trying to learn how a washing machine works, etc. Mature students are almost always much more focused.
(I
did
tour two art college when I was 16 (
Cornish
in Seattle, and
Emily Carr
in Vancouver), vaguely thinking maybe I wanted to be a painter or a graphic designer. But I looked around at all the sneering students in their cool outfits and thought I would never fit in. And I cared about fitting in, I was 16. ...Ha ha, Bryn Mawr wasn't like that, it was wonderful Nerdville.)
(
Click here for more under the cut!
Collapse
)
I get a lot of people asking me for advice about art college. Should they go? Will it help them get work in illustration, children's books or comics?
Summer Reading Challenge
is off to a great start! Here are a bunch of us at the
British Library
launch, being our usual quiet, demure selves.
That's illustrator-animator
Steve May
on the left (who did a great job animating the Mythical Maze trailer), writer-illustrator
Liz Pichon
, some tall chick in a hat, writer (and former actor, I discovered)
Guy Bass
, and writer
Helena Pielichaty
. Oh, and here's Children's Laureate
Malorie Blackman
! (She's also been super-busy coordinating this weekend's London
YA Lit Con
.)
One of the things we were asked to do was to make a video saying which book we'd like to recommend to people doing the Summer Reading Challenge. I chose my studio mate
Gary Northfield
's book,
The Terrible Tales of the Teenytinysaurs
. It's a brilliant read: funny, and beautifully drawn.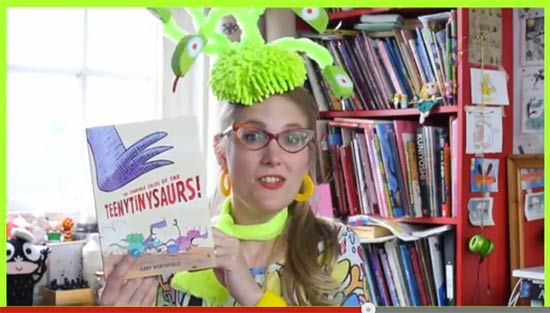 Look out for the beautiful dark underwater scene that Gary carved out of a giant sheet of scratchboard! (Here's a peek at it from our studio.) Gary's the person who originally showed me how to do library events, he's ace.
Here you can see me talking about
Teenytinysaurs
. I think I might have been underwater, too, or just very tired, because I don't think I usually talk that slowly and deeply. Kind of weird sounding. But, hey... FLOURESCENT MEDUSA HAT.
(
Click here for more under the cut!
Collapse
)
Snakes alive! This year's