So I have this big looming picture book deadline and a couple weeks ago Stuart kindly said, 'Do you want to cancel our little trip to Chichester?' And I said, 'NO!' because, you know,
PRIORITIES
. And it was great! Stuart often comes along to book festivals with me, but I'm running around doing events, so it's not really the same as going away on holiday.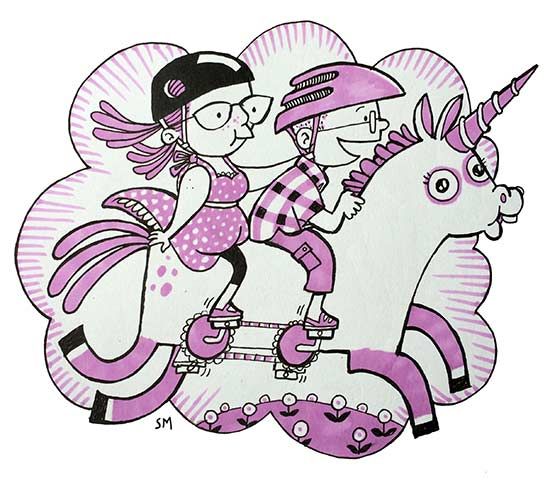 I thought it was going to be more of a relaxing trip, but we ended up cycling 63 miles over three days; Stuart clocked it on his little bike mile counter thingie.
Chichester
is a great area for cycling, lots of little paths through the wheat fields and by the sea.
We even cycled a little bit
through
the sea when we reached
Bosham
at high tide (pronounced
BOZZ'um
, we finally worked out).
One of the only things I knew about Chichester is that amazing illustrator
Warwick Johnson Cadwell
runs boat tours there (
Chichester Harbour Water Tours
), so we met up with him down at
Itchenor
Harbour and went along for a ride. I knew about this because almost every day he posts his 'Passenger of the Day' sketch
on his Instagram
. Actually, we missed the boat on the first day because it took longer than we thought to cycle from Chichester, so we saw him two days.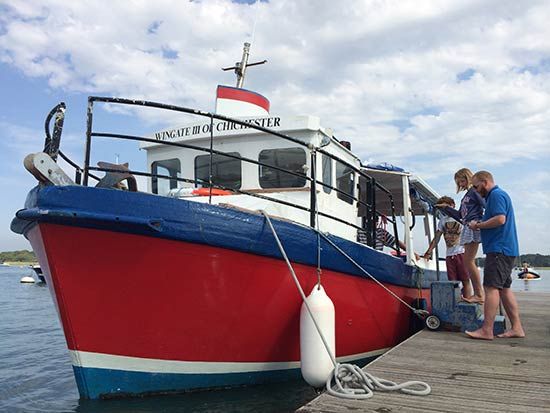 Warwick's kids used to read my comics when I was drawing
Vern and Lettuce
, so they knew about me a little, and it was fun getting to sit in The Ship Inn by the harbour and draw with them. And look, I got to be Passenger of the Day!! :D
(
Collapse
)