October 20th, 2014
24-Hour Comic Marathon
at this weekend's
Lakes International Comic Art Festival
in Kendal.
The challenge I set myself (besides making a whole book in 24 hours!) was to make a comic book that an adult could read aloud to a child. (Usually comics are rather difficult to read aloud.) So there are bits that might be slightly wordy, but I was doing that to try to make it read better. It was an experiment, so see if you think it works!
(
Click here for more under the cut!
Collapse
)
Hello! Here's the comic I made for the
Oliver and the Seawigs
on this year's
Carnegie Medal nomination list
, but something made me do a double-take on the way it was written: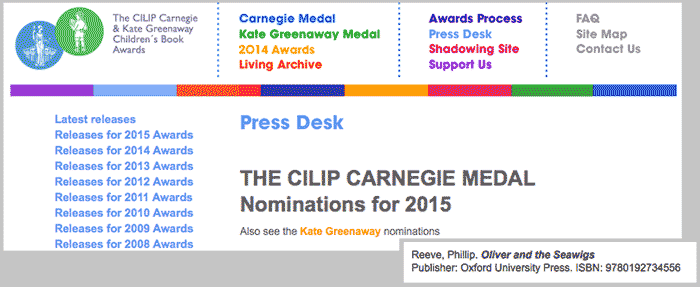 Edit: They've CHANGED the listings! Hurrah!
Now, I feel uncomfortable writing about awards. Partly because they're someone else's business; other people can give awards to anyone they like. Partly because I don't spend a lot of time researching the exact particulars of each award because I'm too busy trying to make good books, and good books that earn enough money to let me keep doing this job. So I'm no expert on the Carnegie and Greenaway medals. But these awards are set forward as the most important of the book prizes and picked up the most by the media, so when I spot something that seems amiss, I feel I need to ask questions, even if they don't directly benefit my own prospects.
Question: Why would the Carnegie list a highly illustrated book with just the writer's name and not the illustrator's name?
(
Click here for more under the cut...
Collapse
)
I was glad to spot