October 28th, 2014
It's quite fun travelling in full costume, it makes so many people's faces light up. Also, I tried travelling with my Bakewell Tart hat in a bag last time and the cherry came off the top, so it's safer just to carry it on my head, all the way to Oxford's
Story Museum
. Which is where my co-author
David O'Connell
and I did our Jampires show!
Huge thanks to everyone who came along and drew with us! I'm lucky, both of my current co-authors can draw, so we can do fun drawing double acts. We taught everyone how to draw a Jampire, but then went on to create other beasties. (Mine here is a Sushipire and Dave's drawing a Ricepuddingpire.)
Photo tweeted by @DragonDentist John McLay
Oh, I must include the lovely poster Dave drew for our event. He gave me such excellent pointy feet.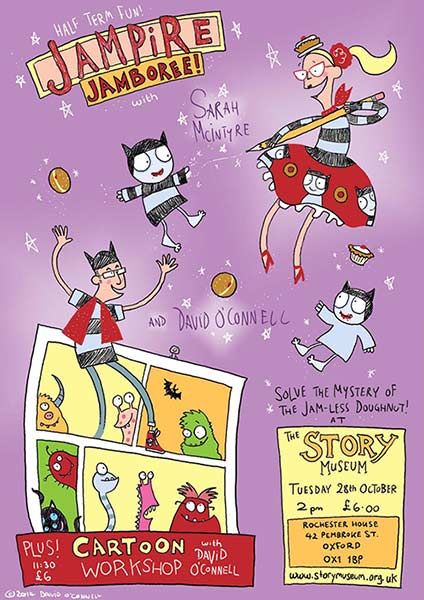 (
Click for more under the cut!
Collapse
)
I spent a lot of time with these little dudes: Jampire, whom I really ought to name, but who is still 'Jampire', and the Iron Bear, who is probably made of bronze and is really named Paddington, but I just like calling him the Iron Bear. Anyway, I spend a lot of time at Paddington station. And today I was Oxford-bound!