December 1st, 2014
Cakes in Space
posters are starting to happen in the London Underground! It's a good Christmas prezzie, so hopefully a few commuters, partygoers, weary travellers, panto-going families, etc will take notice. Here's one spotted by
Sally-Anne Hickman
:
It's like a childhood dream, these posters. Last years we had posters for
Oliver and the Seawigs
, and the very first one I saw was when my train stopped in front of it, and the carriage doors opened to reveal the poster perfectly framed in its doors. It was total magic. Here's another poster, snapped by Oxford University Press's
Alesha Bonser
in Piccadilly Circus station:
And news just in from
Imogen Russell Williams
and
Susannah Northfield
on Twitter:
Cakes in Space
is also listed in today's
Metro
'Best Kid Books 5-8'! (Hopefully kids older than 8 - and adults! - will like it, too!)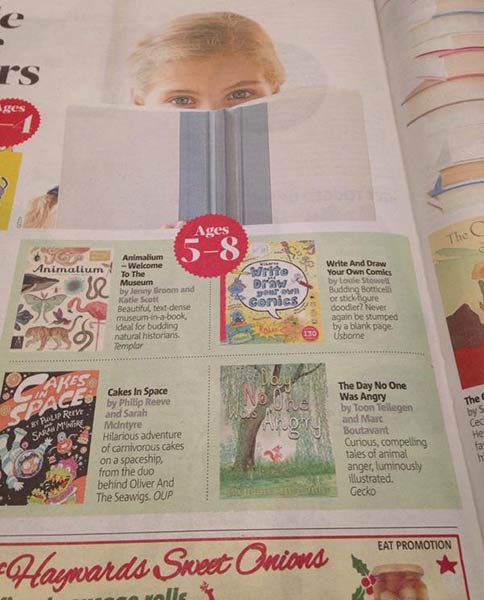 So exciting, sightings of
RAILHEAD
, and was hoping to catch glitches by giving it a read-through. I was more than happy to 'help'!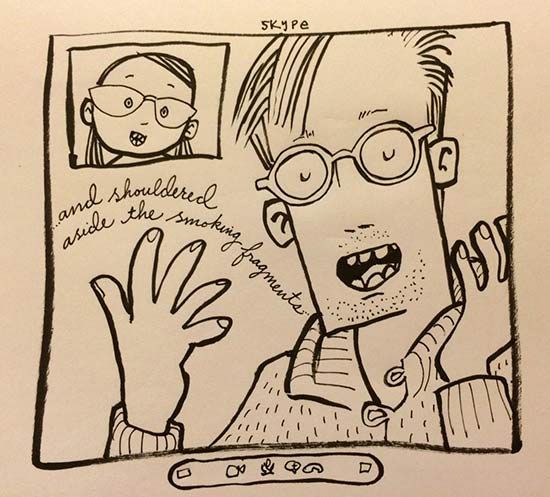 Gosh, it's a stonking good story. If you don't know about
RAILHEAD
, you can read a little bit about it
over on Philip's blog
. I'm not illustrating this one, it's more along the lines of Philip's Mortal Engines stories, but with a completely new amazing world and totally new tech. It comes out next year, early autumn, I think.
I'm finally on the mend after Epic Flu, but I've had a hard time getting straight back to work and my concentration's been all over the place. All I really want to do is curl up with a hot drink while someone reads me stories. ...So Philip Reeve obliged me, since he was just about to turn in an edited version of his upcoming book,