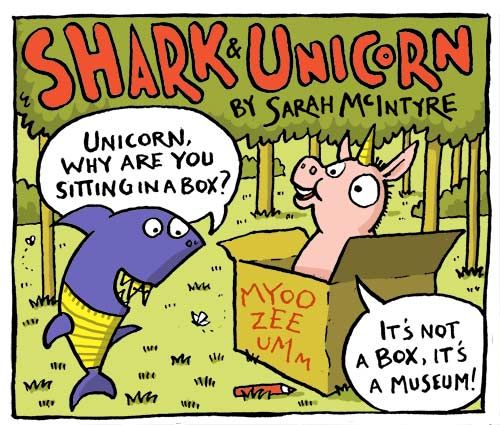 From The Funday Times, 14 Dec - read entire comic strip here
I got the nicest e-mail yesterday from a dad named Ben:
Dear Sarah,
I am writing to say how much my 3 year old son, Adam, and I have enjoyed your Shark and Unicorn cartoons in the Funday Times and your website and blog. We have them on the wall in his playroom and he happily spends time reading and laughing. It has definitely helped his reading. We hope there are many more to come.

Kind regards, Ben and Adam

I should add that we have enjoyed the 'how to draw' guides. Adam is obsessed with windmills (we have visited nearly 100 over the past year!) so we have lots of drawings of windmills and the occasional shark, unicorn or Jampire included, often milling!
Look, my Shark & Unicorn comics strips on his wall!
Hooray! I don't get as much feedback about Shark & Unicorn as I do about my other work, so it's great to hear that readers out there are enjoying it. My editor, Karen Robinson, was hoping we could aim it at quite young children, but I never really know if those children end up finding it, buried deep in The Sunday Times. So, hurrah, thanks, Adam & Ben! (Perhaps our windmill fan will grow up to read Rob Davis'
Don Quixote
comics.)
(
Collapse
)