Happy World Book Day, everyone!
I've already seen one costume tweeted by
Rebecca Mascull
of her daughter Poppy, dressed up as Oliver from
Oliver and the Seawigs
. So fab, GO POPPY! She's
interviewed Philip Reeve and me here on her mum's blog
.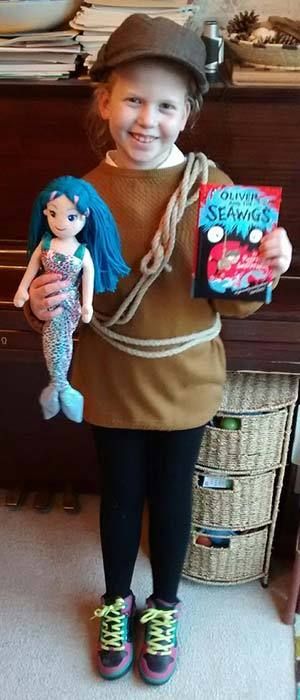 Last night we celebrated 'the year's most progressive, intelligent and entertaining works that contain elements of the speculative or fantastic'. I've
blogged in the past
about
The Kitschies
awards, but last week I was surprised to get a special request from organiser
Glen Mehn
to come to the ceremony to accept their Black Tentacle award. Children's Laureate
Malorie Blackman
won it last year, so I was more than surprised! Here's Glen presenting, and
Anne Perry
, who started up The Kitschies with her partner,
Jared Shurin
, painting names on the tentacle trophies. (She made the trophies but didn't know who was going to win this year so she painted the names on the spot.)
One of the great things about The Kitschies is that they have a special award for book cover artwork, such an important part of making books awesome. The winner of this year's cover award - The Inky Tentacle - was
Glenn O'Neill
, for
Tigerman
by
Nick Harkaway
(who coincidentally won The Red Tentacle back in 2013).
One of the highlights of my evening was meeting these two illustrators,
Jim Kay
(who won the Greenaway for
A Monster Calls
and is currently illustrating the new Harry Potter covers), and up-and-coming
DAPS
; the two of them gave a great presentation and were just so... goshdarn NICE. I hope to see a lot more of these dudes in the future.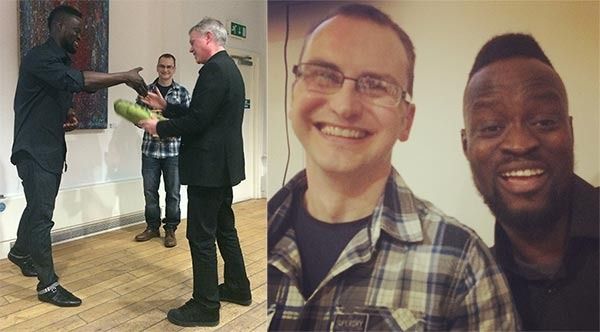 I didn't win The Black Tentacle for a book, it's more a judges' discretion general sort of award for 'outstanding contribution to geek culture'. And it gave me a chance to talk about the
#PicturesMeanBusiness
campaign, which I feel really follows the work Malorie Blackman's been doing with the
#WeNeedDiverseBooks
campaign. Getting into the book business can take a long time and it can be extremely difficult to make a living at it. Which can make it very elitist, since people with family money, or who are supported by earning partners have a huge advantage. That's tragic for books, because it means we hear a lot less from single people, and people who can't afford to be fully competitive by illustrating or writing full-time.
(
Collapse
)