Leicester earthlings got a surprise last week when my co-author
Philip Reeve
and I teleported in with our
Cakes in Space
roadshow! We drew a picture of ourselves, in case we couldn't be seen because our costumes were so blindingly shiny:
We were thrilled to take part in
Leicester Author Week
, and this is the first time there that I've been able to do a double-act presentation. Which was a lot of fun!
The Two Steves
have been doing this double act thing for years, here we are with them (
Steve Skidmore
and
Steve Barlow
) and writer
Andy Briggs
, who all worked with their own groups of kids on the day. And we got to see a lot of kids! Over the two days, I got to work with over 800 Leicester school children on the city's innovative scheme,
Whatever It Takes
to get kids reading.
**Philip Reeve has blogged (magnificently) about our
Cakes in Space
day over on his website**,
so pop over there for a read
! (You can print out
Cakes in Space drawing resources from my website.
) I think one of my favourite things about the day was watching all these kids at the end of the session, rushing up to give Philip big hugs. I don't think he got hugged quite so much when he was doing his Mortal Engines talks. :)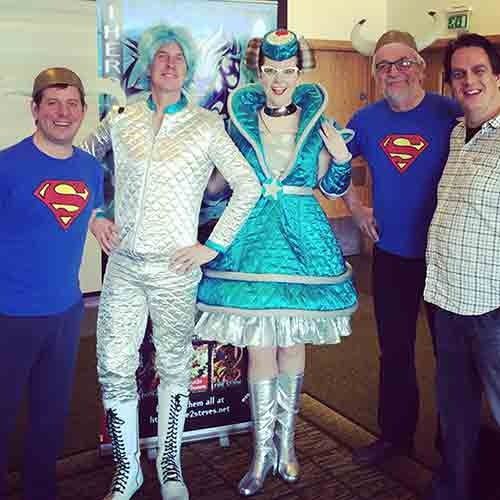 So... JAMPIRES DAY! I spent quite awhile talking about my co-author on this picture book, the excellent
David O'Connell
, and drawing, of course.
A teacher took this photo with the kids from her class, who were very appropriately dressed in jammy red school jumpers.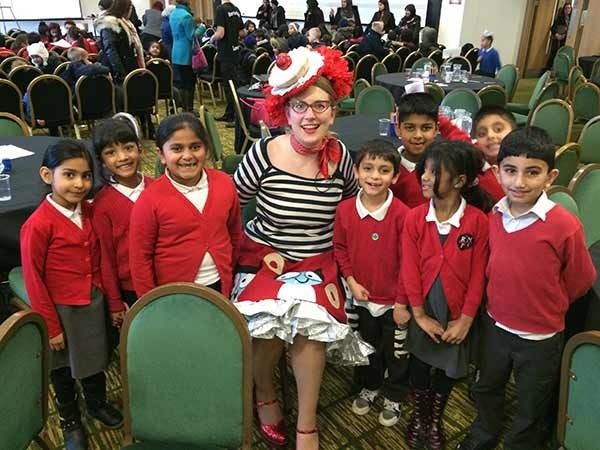 The team that run Leicester Author Week is what makes it great; they manage to combine a warm, fun atmosphere with total professionalism. The equipment always works, the planning is very straightforward, and every kid gets a book at the end of the day. Big thanks to technician
Mark Lambell
, multi-lingual storyteller
Jyoti Shanghavi
and head organiser
Kate Drurey
(with jam pot).
(
Collapse
)