Right now in children's book world, it's all happening in Bologna! Publishers and rights teams from all around the world have gathered in the vast Italian conference centre/warehouse for the
Bologna Children's Book Fair
to buy and sell the rights to publish each other's books in different languages. Britain is quite a small country, so if British writers and illustrators can have their work sold abroad, it's much easier to earn a living at their jobs.
So everyone who makes books is wondering... what will happen?? How are our books doing? Will the rights people talk up our books as extra-special, and will potential publishers notice our books when they walk past our publisher's stall? So nerve-wracking for everyone, but exciting, too!
So I was thrilled to see this banner in the
OUP Children
's stall, tweeted by our publisher,
Liz Cross
. Yay, PUGS!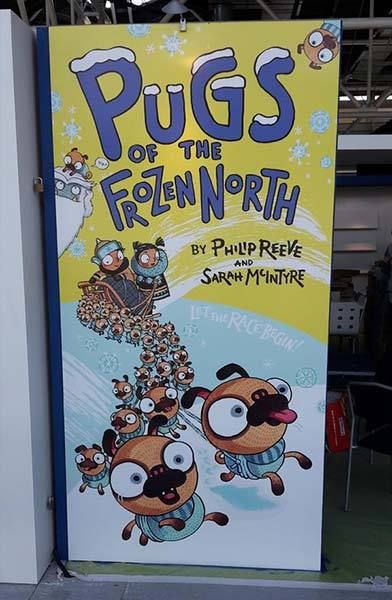 And rights agent
Karoline Bakken
sent me a peek of the catalogue that visiting publishers will be looking at. Here's the Pugs page:
24 languages
... that is AMAZING. Sometimes in the past, my books have sold in three or four languages, but this is incredible. Working with Philip Reeve and the OUP team was definitely a good idea. Liz just tweeted a picture of the
rights team
, here they are! A huge part of the success is down to their enthusiasm, and these people have done a great job so far. And huge thanks to our
translators
! A Belgian friend was recently reading the French edition of
Oliver et les Isles Vagabondes
, and she said that translator Raphaële Eschenbrenner's text was pure magic.
I actually have TWO books at Bologna this year! I'm still working like mad on
Pugs of the Frozen North
, but I've seen printed copies of
Dinosaur Police
, which comes out with
Scholastic UK
in May. That baby is ready to walk! Big thanks to my Scholastic editor
Pauliina Malinen
and designer
Rebecca Essilifie
.
I hope
Dinosaur Police
sells lots of foreign editions, too, fingers crossed. I mostly just make picture that please me, but there are a few things I did to make it so foreign publishers wouldn't be put off. Take this spread, for example: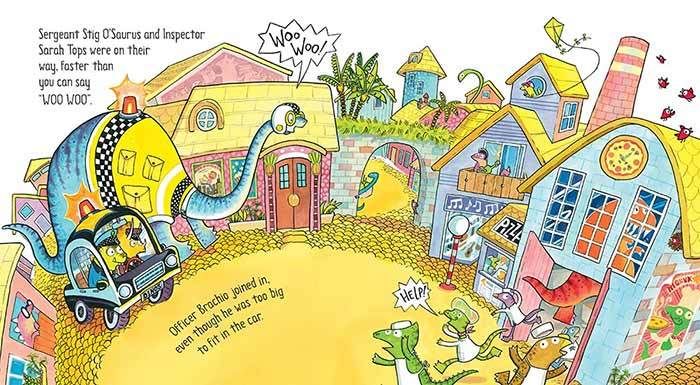 If we zoom in on the police car, you'll notice it's not absolutely clear who is driving. Now, it shouldn't really matter, since this is Dinoville, not Hong Kong or Norway or Egypt, but if publishers in a certain country are fussy about kids learning the 'correct' side a driver should sit on, this won't actually be incorrect. (I actually find that rather amusing, this slightly mysterious car.)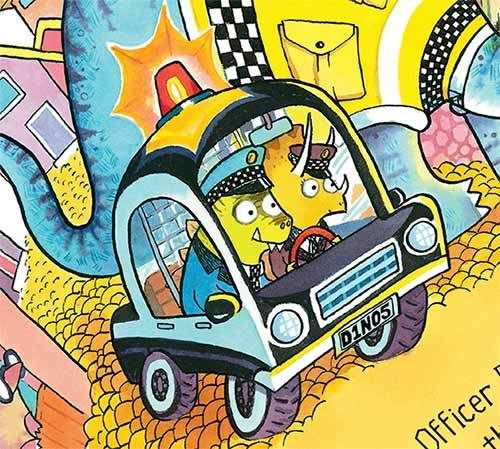 (
Collapse
)