It's so exciting having a picture book launching right now, but getting the word out about it is a real team effort! Here's my friend, the sculptor
Eddie Smith
, turning his hand to millinery to make my hat for my event at the
Hay Festival
this Thursday. I
think
it will just about fit in my enormous suitcase. Maybe! We'll see.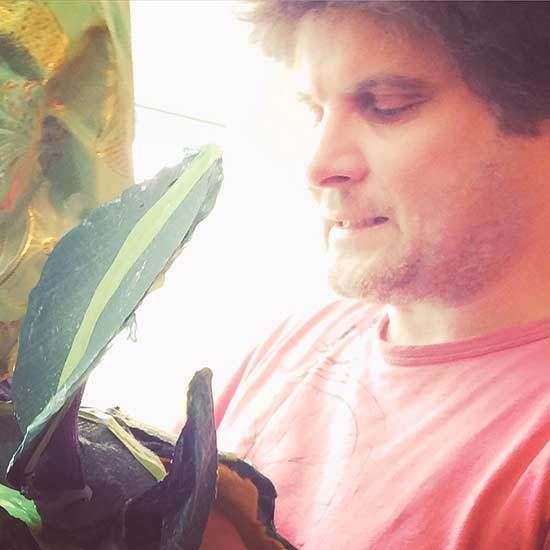 And wonderful Ghanaian tailor
Esther Marfo
has been sewing my dress, from some wonderful African material I found in a shop near my studio. I love walking into her tailor shop: so much colour and amazing patterns everywhere.
So, see you at my first
Dinosaur Police
event, if you're at the festival in Wales. A brand-new event for a book is always slightly nerve-wracking, but my fab publicist
Dave Sanger
is going to help me when we sing the new Dinosaur Police song, and I got help with that, too:
Philip Reeve
wrote the lyrics and
Sarah Reeve
wrote the music and found some ukulele chords I could manage to play. I need help, I just make books, but there's so much more to telling people ABOUT those books!
In the meantime, it's great seeing what other people are getting up to. Check out these wonderful pictures tweeted by Mercedez Ortiz (
@Literati101
)!
Mercedez has set herself a great project. Here's what she
writes on her blog
:
There are no illustration courses in my city, and I couldn't decide on what books to pick or which online classes could offer me the training I need. Not knowing where to start, I was sketching everything I saw, picking tips and tidbits of information here and there, drawing like a headless cucaracha. No matter how hard I tried, I knew all that wasn't taking me anywhere.

Fortunately, on January I found The Guardian's How to Draw… series, with piles of easy to follow step-by-step guides, prepared by some of the most amazing children's book illustrators in the world, and that treasure-trove inspired me to come up with this project!

The Project: Every day for a year, from February 1, 2015 to January 31, 2016, I will make an illustration inspired on what I'll learn from each of these guides, doing some crazy experiments based on such lessons, and post the resulting illustration on this blog.

I'll try to find my style throughout the whole project, which means that I'll be trying to add my own flavor to the illustrations, besides exploring and experimenting with different materials and techniques.
Isn't that terrific? Here's her drawing based on my
Trevor the T-Rex doing the Charleston
, and Astra, from my
'How to Draw Astra' sheet
on the
Cakes in Space
webpage.
I love it when people don't wait to be assigned art projects and actually go looking for them. That's pretty much what it was like when I studied for my Master's Degree at Camberwell art college; the people who waited around to be told to do things didn't get very far, and the people who excelled were the ones who grabbed every opportunity. They weren't so worried about good marks: they were looking for holes in their experience and skills, and how they could find ways to plug those holes with training and practice, wherever they could find it. Mercedez looks like one of those people, setting herself projects and going for it.
And here are two more plugs for my
BIG OFFICIAL DINOSAUR POLICE launch day! Saturday, 6 June, mark your diaries!
* Storytime and drawing fun at
Dulwich Books at 11am
(
see their website for details
).
* A big party with snacks (and a bit of bubbly for the grownups), story, drawing and music at
Tales on Moon Lane at 2pm
! (
Here's their events website
).
Be sure to pre-book, and hope you can come along! Here are the two different event posters: