Yesterday I got to be a RAILHEAD AMBASSADOR at a special early-preview event for
Philip Reeve
's upcoming novel,
Railhead
. (Look at me, being all railway and ambassadorial in gold braid and hat. Also slightly overheated.)
Funnily enough, I used to go to lots of ambassadorial events when I first met my husband, when he was working for the British Embassy in Moscow. Back then, I was very studenty and didn't really have any dress-up clothes, so I pretty much wore black jeans, a velvet shirt and Doc Martens everywhere. All the foreign service wives had perfect English-bought clothes for every occasion and I always felt a bit awkward and gauche. So it was nice to be going to an ambassador event when I'd stopped caring about not blending in and could look like a twit with the greatest of joy, ha ha.
Anyway, back to the book, and I'm really excited about this one. Here's a snapshot of one of the posters on display at the event: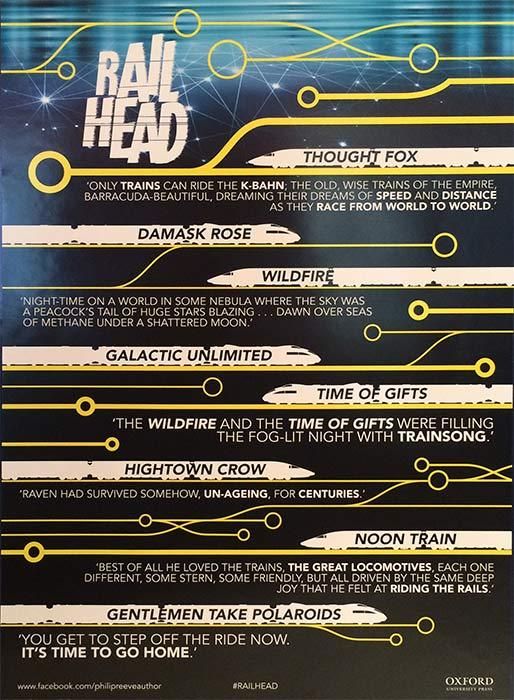 (
Collapse
)
One more thing:
Railhead
is Philip's solo book (I'm not a co-author), but there's been a lovely review of our joint book,
Oliver and the Seawigs
by
Stephen Holland
of the excellent
Page 45 comics shop
in Nottingham. Stephen's a legendary reviewer, so I was hugely flattered to see that he'd taken time to focus on Seawigs, which isn't even a comic! I love reading his reviews: they're so exuberant, and he comes up with the most original descriptions and observations. And it's wonderful to see a review that talks so much about the illustrations (it's the first time I've ever seen someone describe something in my picture as 'wonky-woo', YESSS. Thanks, Stephen! You can read the
whole review here
(scroll down a bit).