People have been asking me, 'How's it going with the
#PicturesMeanBusiness campaign
?'
I've heard some good feedback that it's starting to make a difference, that people in publishing are more aware of the impact they can make on illustrators' careers by crediting them for their work. But important lists of illustrated books keep popping up with illustrators' names omitted, from book-loving people you'd think would know better, and they usually assign the blame to incomplete or faulty digital data.
So how's it going with the whole metadata issue? Are we any closer to sorting out the problems?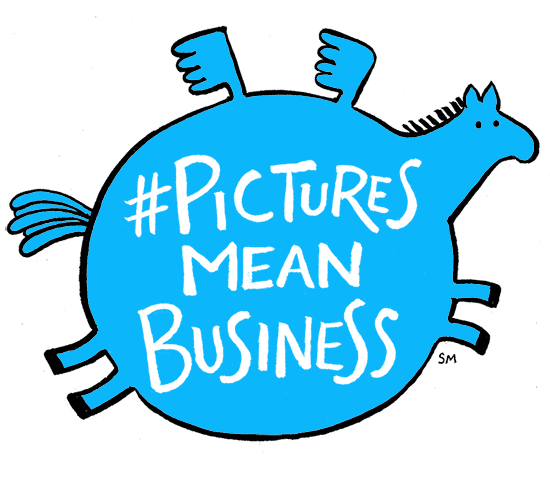 On Wednesday, I met up with
Jo McCrum
and
Nicola Solomon
from
Society of Authors
,
Loretta Schauer
from
Society of Children's Book Writers & Illustrators
, journalist
Charlotte Eyre
from
The Bookseller
magazine and
Andre Breedt
from
Nielsen
, the company which compiles and provides the majority of book data. Andre Breedt was incredibly helpful and supportive of the campaign, and explained to us some of the bare bones of how the book data system works, and spent time thinking with us about ways we could try to improve the situation for illustrators (and translators). Here are some of the things I learned, and some conclusions we drew from the meeting, about what we all need to do to make things work better:
* Illustrators and illustrator agents: you need to be more attentive with CONTRACTS.
The best way for a illustrator to get his or her name on the front cover of a book is to get that promise
in writing
. Illustrators, you or your agents need to HAVE THIS DISCUSSION with your publisher. (This is particularly important if you're illustrating educational material, so-called 'middle-grade fiction' or 'illustrated chapter books'.)
Don't wait until you've finished illustrating half the book to finalise this stuff. Don't work on the promise of a contract. Get it before you begin working or it may be too late; you may get a nasty surprise when the book comes out uncredited to you.
A phrase recommended in your contract by the Society of Authors lawyer at the meeting was
'front cover credit with due prominence'
. You can haggle with how big the lettering needs to be, but at least your name will be on the front cover. If you've done a lot of illustrations and the publisher refuses to put you on the front cover, this is a big deal, a blow to your branding, and may mean you have a harder time getting festival appearances and paid author visits. In that case, you need to decide (with your agent, if you have one):
1. If the publisher insists on not crediting you at all, will the publisher pay you a significant extra amount of money to compensate for this?

2. If you can come to another arrangement (say, your name on the title page, back cover, etc), are you happy with the pay and do you think the credit accurately reflects the amount of work you've contributed to the overall book?

3. After negotiating this, is the job still worth it, or should you turn it down?
The most important thing is that you're clear about this important negotiation point from the beginning and the decision isn't some sales team afterthought.
* Book charities and organisations, people who run award schemes, booksellers, journalists
: assess your own practice. You may be in a rush, but don't blindly accept what you're given when you cut and paste data. If you're making the effort to single out the books for recognition, take the time to make sure you're correctly crediting the people who made them.
You may need to look at an actual copy of the book.
* Publishers
: assess how your data works. To get illustrator data right, we need you to do three things:
1. Be sure you're using standardised data (more about this in a moment).

2. Be sure you (or your intern) fill out the box that asks for the illustrator's name (or 'populate the field' in data-speak).

3. When you request data, be sure to ask for the field that includes the illustrator data. If you don't ask for it, Nielsen won't force it on you.
Let me unpack those a bit.
(
Collapse
)