Once a lonely hunter ventured out upon the ice
The wind was howling fearful cold
It wasn't very nice
Then out of the swirling snow some tiny dogs burst forth...
PUGS.... OF THE FROZEN NORTH!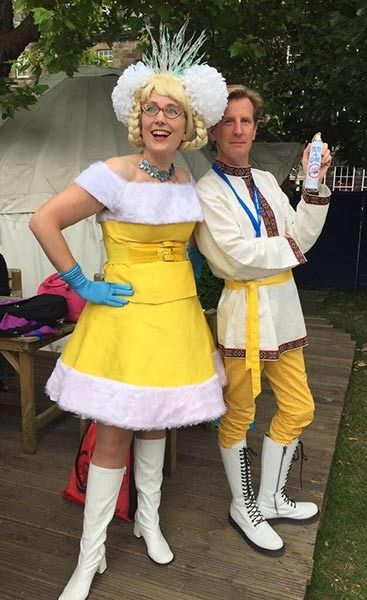 Photo tweeted by Tom Gates author Liz PichonThey said... YIIIIIP! yip YIIIIIP! yip YIP YIP YIP YIP YIP YIP YIP YIP!
...And thus begins the theme song of the new Reeve & McIntyre book, which launched at this year's Edinburgh Book Festival!
Now,
Philip Reeve
and I might get taken more seriously by grown-ups as Proper Authors if we turned up for events wearing black turtlenecks, stroking our chins, and taking turns giving dour gazes into the middle distance. But that's been done before and isn't half as much fun.
Photo tweeted by writer Gwyneth Rees
Last year we came space-themed (
photos here
), and this year we started with a handy shirt my husband, Stuart, had bought years ago in a market in Moscow, and built up the costumes from there. We thought we'd avoid blue (too much like another Frozen) or red (I'm not Mrs Claus) and I love the yellow on our book cover, a look I'd borrowed from the Japanese edition of our earlier book
Oliver and the Seawigs
! I seldom think foreign publishers actually
improve
on our covers, but the Japanese totally did.
Here's our Pugs cover evolution. (And I just saw that our American publishers have gone public with a
blue cover
.)
Photo by Stuart
Of course books aren't ALL about cover colours and costume. But there are millions of books in the world and somehow we have to figure out how to make ours jump off the shelves. Besides, dressing up makes going on stage much easier somehow. It's like being in a play. This time the excellent
Esther Marfo
sewed my dress to my drawing of it. Here she is in her workshop:
And here's the icicle tiara I made, with plastic soda bottles, a comb, scissors, a candle and a glue gun.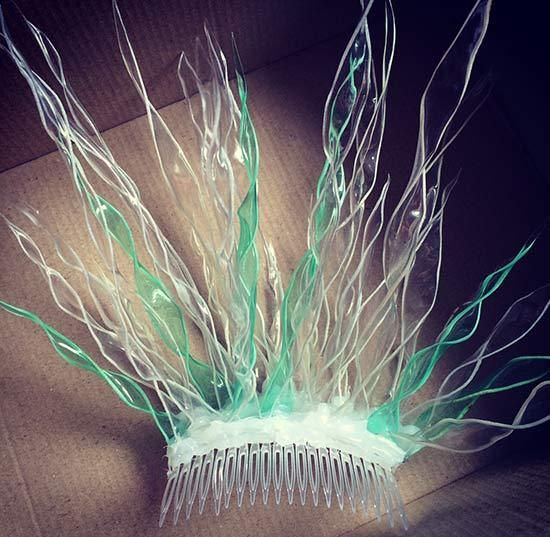 You can learn how to do almost anything on the Internet. Here's a tutorial I adapted to make the tiara. It was a lot of fun to make, and not too tricky, after I'd messed up the first couple icicles.
And my Aunt Joy just happened to give me this dog-paw necklace on my recent trip to the USA, so thank you, Auntie! Selfie with Stuart in our Edinburgh hotel lift:
And yes, we did look a lot like traveling balalaika players. Which is GREAT, everyone loves a good long balalaika album, or two, or twenty-two. Our Oxford University Press designer,
Jo Cameron
, created this terrific album cover for us: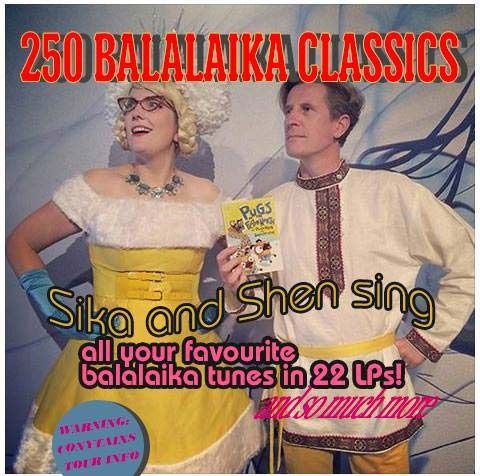 And Philip created a special edition of our standard anti-yeti spray. Very important to take along, when you're journeying to the Frozen North.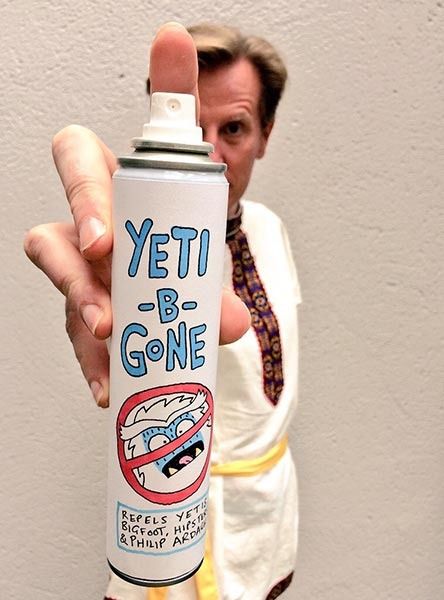 (
Collapse
)