A few drawings from this week: here's a magnet I made for
Philip Ardagh
's birthday. King Pugbeard! We see a lot of Ardagh these days in the studio because he's making FOUR picture books with my studio mate,
Elissa Elwick
.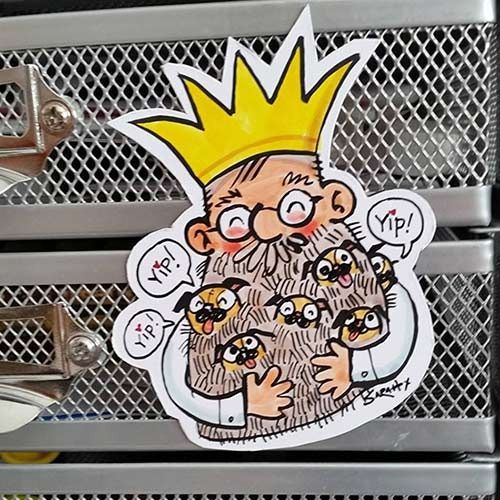 Speaking of Elissa, here she is, also in magnet form, with her boyfriend Martin. He's very sweet and plays in a thrasher metal band.
And here's Elissa again, with writer
Jeff Norton
and editor of
The Bookseller
magazine
Philip Jones
. We were at the magazine's drinks party because I'm speaking about the
#PicturesMeanBusiness
campaign at their upcoming
Author Day
on 30 Nov.
Ah, and one more; I get lots of paper offcuts right now because I'm painting picture book pages that are only just a bit smaller than my paper. So here's a puddle boy painted onto one of the scraps.
If you're going to tomorrow's
Illustrator Salon
in London with
Steven Lenton
, I'll see you there!