Today was Jampires painting day! My co-writer/co-illustrator
David O'Connell
and I had fun mucking about with Posca pens in the front window of
Gosh Comics
in Soho.
Painting on windows is strange, the opposite to painting on paper, because the first colours you apply to the glass are the ones that show in front. So I kept running around to the front of the window to check we were doing all right. The other thing about painting on windows is that you have people watching you! Which is actually quite fun, because you can wave at each other and see them heading off with their freshly signed
Jampires
books. I love this photo of Lily with her new book,
tweeted by Charlotte Hacking
: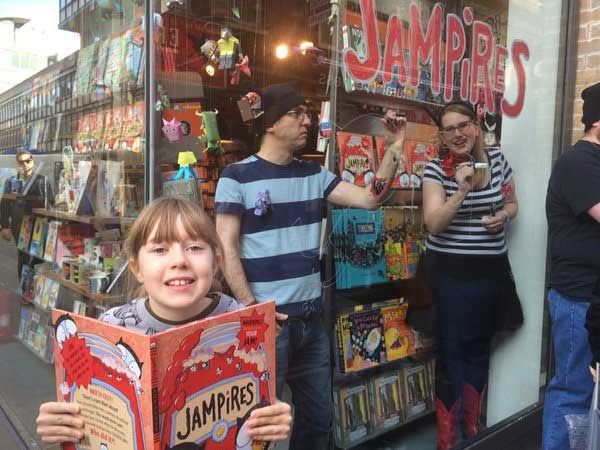 Ta-dah! All finished! We're keeping our fingers crossed that Gosh will leave it up for Christmas as well as Halloween. You can
knit a Jampire
to go along with your book if you want to download the free pattern (along with lots of other activities) at
jampires.com
.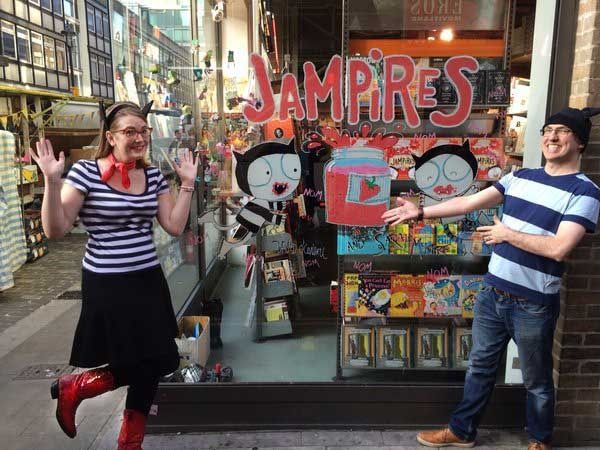 Maybe they will;
Neill Cameron
's lovely
Pirates of Pangaea
painting is still in the window!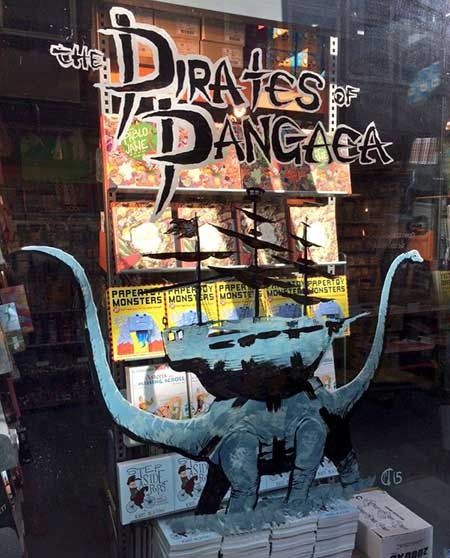 Dave and I signed a lot of stock, so you can still get copies of the
Jampires
picture book and mini comic, Dave's
Monster & Chips
series, and my
Dinosaur Police
,
There's a Shark in the Bath
,
Morris the Mankiest Monster
and
You Can't Eat a Princess!
. We also met a nice Scottish chappie named
Mark Millar
who also makes comics and film stuff, and ladies in nice costumes like to pose for photos with him.
I'm off to Norway for a week packed full of school visits and a festival, so I'll have more news soon (but I might be a bit slow getting back to e-mails and things).