Something strange happened this year in the New York offices of
Random House Kids
. Little eyes peeking around laptop screens, grabby little hands stealing cookies from editor desks. Little tails whisking through coffee cups and splashing onto book proofs. They had an INFESTATION.
...Of what, you ask? Well, they had so many lovely copies of
Oliver and the Seawigs
lying about that some of the Sea Monkeys ESCAPED. This happens from time to time. Here's our designer,
Jo Cameron
, in England, being mucked about by one of these rascally critters:
For a few hours, no one knew why so many things were going wrong in the office, but Sea Monkeys love ATTENTION and didn't stay hidden for long. In fact, they swarmed the board room, pinned down our editor and the design team and INSISTED they get full credit on the book cover. MONKEYS MEAN BUSINESS.
As seen previously in Manchester
Despite the concept of a 'Seawig' being a fine thing, the team had no choice but to give in to the wriggling hoard and accept their terms. So, in America, our book, starting in July, will be called... OLIVER AND THE SEA MONKEYS.
If you're in the USA and want the pre-monkeyed version, you'd better get on the case quickly, otherwise this is the one you'll see popping up in shops (and screeching EEP EEP EEP).
You can get lots of of fun free story-themed stuff
on my website
, including a pattern to knit your own Sea Monkey (designed by
Lauren O'Farrell
aka Deadly Knitshade):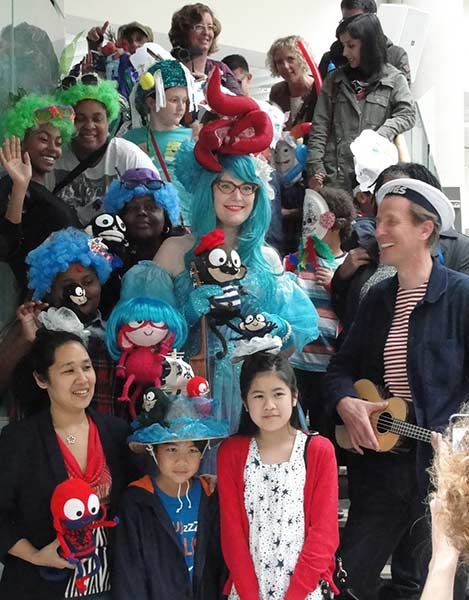 As seen, also in Manchester
(
Collapse
)